Philip Starck, a French designer, hates cars. According to him cars are dirty, anti social, noisy and masochistic but he also admits that sometimes people do need it as a mode of transportation. At the Geneva Motor Show this year he displayed an electric vehicle named 'V+ Volteis', which looks more like a golf cart rather than a car which can be used as a mode of urban transportation.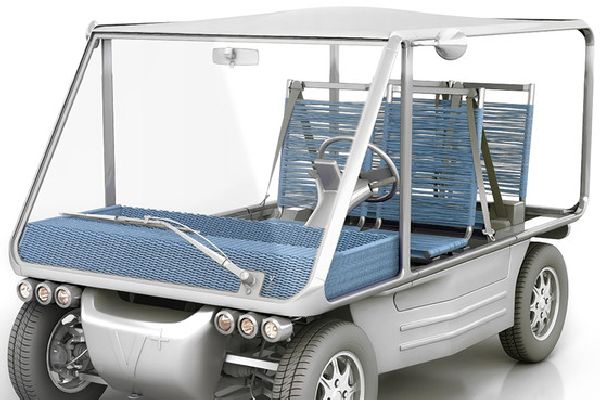 According to the designer, the car is like a child's soap box cart with four wheels and not a space rocket. It's clean, zippy, makes no noise and has a little bell to warn people that you are coming. There is no engine and hence no worries to change oil making it almost maintenance free. It has all round vision, which means you are in open and you can see and can be seen by everyone. Taking Bare bones engineering of Citroen 2CV as the inspiration, designer has got rid of anything which seemed useless. Power windows, in fact, to be accurate windows, air conditioning, fancy seats and sophisticated electronics have been thrown out whereas a big windshield, a sleek steering wheel, seat belts, four PVC cord made spaghetti chairs, a textile roof and a basket instead a trunk have been included. A bottle shaped gauge to display the battery level and a flat screen speedometer are used. Top speed of the car is 40mph and the range is of 37 miles. It takes six hours to charge the battery fully and it is capable of recovering 50 percent of charge within two hours by connecting it to any power socket.
The V+ will cost US$40,000 and will be marketed in France through 15 stores. It will also be available in other major cities around the world. The target customers will be individuals with hotels in island resorts and vacation homes that would offer the hotel guests runabouts as a service.
Via: Wsj