The Vissershok Primary School is a rural school, committed to the children of the deprived group of people living in the small paucity stricken town named Du Noon. Woolworths partnered with Safmarine and AfriSam transformed a twelve meter shipping container into a classroom for this Primary school, which is located in the hills of Durbanville on the outskirts of Cape Town. This project found a platform through a design competition 'Making the Difference through Design' by Woolworths. This introduces design to the students and in turn helps them to bring out their talents and see their work come to life.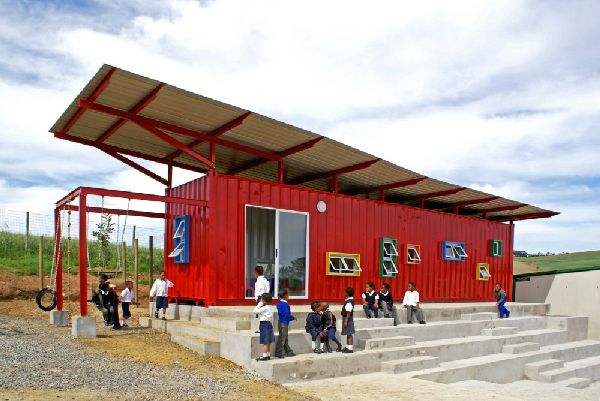 This year, the programme focused on providing a solution on how a recycled container can be used to help the under resourced schools. Marshaarn Brink, a class 10 student won this competition. He united the container with the outdoor jungle gym, which gave it a more playful touch and finally this concept was evolved into a final design by Tsai Design Studio keeping in mind the site circumstances and the environmental factors.
This container serves as a comfortable classroom for twenty five students in the morning and a library for the whole school in the afternoon. The large steel roof shields the container from direct sunlight and hence prevents it from getting too hot in the summers; it is further cooled down through cross ventilation, which is achieved by the colorful windows on both sides of the container. The steel frames also support the play area, as a part of the container. It also has a patio space where the students can sit and socialize; it also acts as an amphitheater for the school assemblies. The green wall disguised as a vegetable garden not only prevents the play region from the south east winds but also helps the school to avail fresh vegetables.
This container apart from being the most sustainable part of the school's ecosystem has made a remarkable difference to the lives of the underprivileged children.
Via: Archdaily