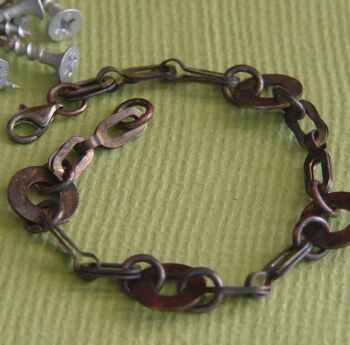 Here is an interesting piece of jewelry for men who want to look macho and rough. Bracelets for men are in fashion for long. If you are bored with the existing designs in the market, then try a change with this bracelet made from motor cycle parts.
To make this unique jewelry for men, three metals were used — brass, copper, and a Sterling lobster Clasp. Patina has been applied on all the jewelries to blacken them. This 'chunky' bracelet is just perfect for men who love to look tough and hardy. Measuring 8.5 inches, the junk recycled jewelry costs $22.
It measures 8.5 inches, and let me know if you require it longer or shorter. It's the general length for the Male.
Via: Etsy