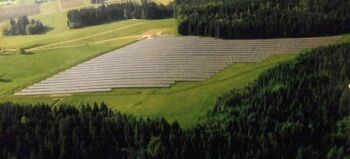 A new solar plant started its service to 3300 Germans last week. Claimed as world's largest contiguous solar plant, it demonstrates new standards in solar power cost-efficiency.
The plant delivers the optimized energy output by using the master-slave inverter concept developed by Shell. And with the help of energy company E.on, 62,500 modules deliver power in 6 parallel linked units.
Mounted on a former military ground at Pocking, that totals to about 16.5 km (10 miles) of solar panels. It is located near Passau in Bavaria. The installation is said to save 10,000 tons of CO2 in a year! Do you know, this amazingly is equivalent of 1,000 hectares of woodlands!
Via: Treehugger