Green credentials are on-trend. One might even argue they have essential status, with some firms being scrutinised intensely for not going green enough.
Still, despite the growing demand for these measures, not every firm can carry them out. Unfortunately, rising costs are stunting many firms' processes in this regard, limiting how much they can feasibly achieve. It may not even be their fault, yet still, there are shortcomings.
When you have painting and decorating work that needs to be completed, the eco-friendliness of the services you work with might greatly benefit you. These professionals and others in the property sector can leave behind debris and have environmentally hazardous work practices, despite rules and regulations prohibiting some of these practices.
Consequently, if these issues are important, you must ensure that the painters and decorators you work with don't cross the wrong side of the green line. Here's how to find the right professionals in light of those standards.
Explore Portals for Finding Trades people
Lots of people claim to be competent and responsible painters and decorators. However, not all of them will be speaking truthfully.
The best of them can be found on reputable talent portal websites. You can find someone near you with the help of MyBuilder. Every entry has been vetted and reviewed, and all you need to do is post the nature of your job. After that, painters and decorators (or any other tradesperson you need) will contact you and supply you with a free quote. The process is straightforward and free.
When posting about your job, you can mention the need for sustainability. Local painters and decorators will see that and feel compelled to reach out if they can meet your standards. It's a great way to filter out the painters and decorators near you that might be a poor fit for your needs, and it also sets expectations from the start.
Look at Reviews Centred Around Eco-Friendliness
As mentioned at the beginning of this article, more people are becoming invested in eco-friendly measures. Further intrigue and education on the subject will inevitably build over time, too.
Three-quarters of adults were reported to be worried about climate change in a 2021 study. It seems safe to conclude that momentum will keep building in 2023 and beyond. Such attitudes may come through in the reviews that customers leave for businesses, including painters and decorators, as they may feel more compelled to write about a service that does or doesn't share their values.
So, pour through these remarks and dissect them. The more specific and detailed the review, the better. Have they mentioned what eco-friendly techniques were utilised? Did they refer to any evidence of a green job well done? Eco-friendly objectives must be a genuine effort of the painter and decorators. Some firms can oversell their capabilities, but reviews can soon help you decipher fact from fiction if necessary.
If you're online scrolling through pages of reviews, you'll obviously want to narrow down your search to save time. At the top of your browser, right-click the three vertical dots. A drop-down menu will appear, at which point you should click find. After that, type 'eco-friendly' or any other related buzzword into the field to have it highlight that section of text if it exists. In this case, your search will take you straight to reviews that mention what green standards were met.
Ask About the Cleanup Protocol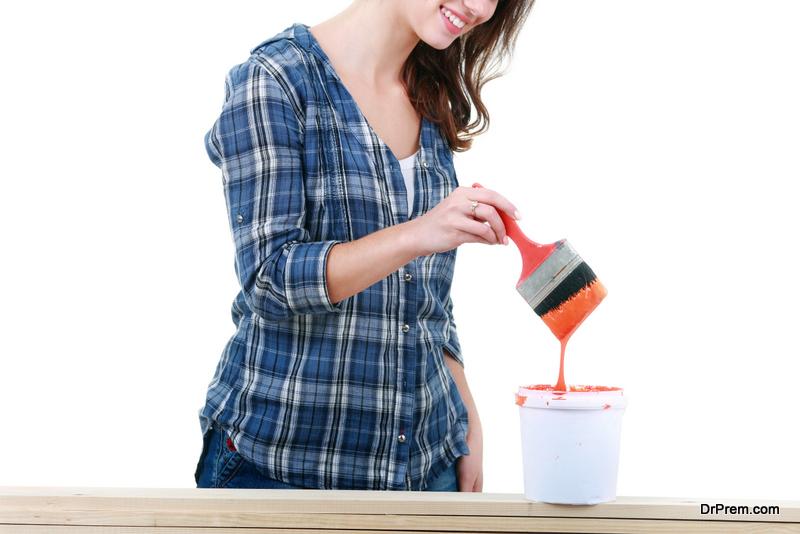 Responsible and eco-friendly painters and decorators are never winging it, even when it seems like they are. They'll have a procedural approach to their work – especially regarding cleanup!
It's not just a case of picking things up and putting them in the bin. There's more they need to do here.
So, once again, consider posting a few choice questions. Ask whether the painters and decorators:
Recycle or reuse materials – carefully discarding perfectly intact goods is a big red flag! Responsible disposable packaging specifically is also essential.
Utilise refillable paint tins or other containers – Painters and decorators can expect to get through paint rapidly, so they should have ardently set measures in place to keep this side of things more sustainable.
Clean up the premises with a green spraying solution– inferior cleaning products can harm the environment.
Your ideal green painters and decorators won't just leave you or your site high and dry. The cleanup effort is all part of a greener plan from the start, so ensure that competency is in place.
Check Out Their Blog
Painting and decorating businesses may run their own blog as part of their company website. It's a great way to generate more traffic to their website and provide some assurances to their customers of their industry knowledge.
Sustainability may be a topic they choose to write about. They may detail their own processes, critique industry shortcomings, or provide commentary on any rules and regulations that come into play. There's no guarantee that they'll have a digital marketing strategy like this underway, but going green is a trend that can generate a buzz around any business.
Sometimes, you can also gain a sense of a company's genuine passion for what they do through their content creation schemes. Are they providing lip service, or have they genuinely researched the issues of today and adopted a credible stance on them? Click on any research links they provide, investigate any references, and try to gain a full picture of the local painter and decorator's understanding of going green. 
Investigate Paint Specifics
Paint can be eco-friendly. The professionals you work with must be supplied with the right stuff.
Fortunately, you don't have to look very far to realise there's a range of eco-friendly paints out there that experts and DIYers alike will use. If you're interested in a painter or decorator, ask them forthrightly what type of paints they use and whether they utilise those well-known to be green. The more informed you are, the more productive your conversation will be, and the more certain of your decision you'll be too.
It's also worth looking into volatile organic compounds (VOC). Some paints can be higher in them, making them toxic as they pollute the air. So, the more low-VOC paint is (and it's usually labelled as being so where applicable), the better.
Consider Transporation
Painters and decorators don't just appear out of thin air, as you well know. Every site they work on involves a commute.
Perhaps you could swing by their premises and look at the vehicles they drive. Are they fuel-efficient? Do the vehicles carry goods that put too much weight on them vehicle? Remember, heavy cargo can strain cars and vans not designed to hold it all. The harder a car must work, the more emissions it pumps out.
You could also think about the commute in a more straightforward sense, too. How far away are the painters and decorators? If they have to cover some distance to reach you, that will create more emissions than necessary. We've already mentioned working with a local painter and decorator, but reducing emissions around your project is another reason to do so! The resources we mentioned before should help you!
Moreover, you could even ask the local painters and decorators to carpool to each site. After all, why should half a dozen workers all take a separate car. A scheme may be in place to kerb emissions this way in their business, so it's recommended you ask the question! 
Article Submitted By Community Writer