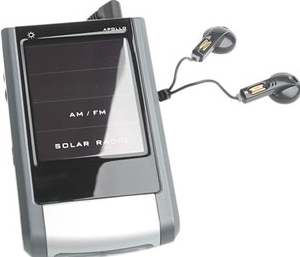 Now you go to work without fretting on a missed match commentary. Add even more fun to your long drive by playing on your favorite tracks. Yes, I am talking about the Solar Palm Radio with LED Torch.
It's conveniently small (6.5 x 10.5 x 1.5 cm), slim, sleek and really easy to carry around. It even fits snugly into your pocket. This little friend gives you access to both AM and FM bands.
Most importantly, this entertainment device is wonderfully eco-friendly. It features a high-efficiency solar panel to generate electricity to be stored within the internal rechargeable battery. It promises up to 4 to 5 hours of listening time when fully charged. Charge time understandably depends on the light the device is exposed to and averages between 2 to 3 hours on Sunny days to 3 to 4 hours on cloudy days.
You have three different sources of power to choose from: Solar Cell, Rechargeable built-in battery and/or one AAA battery. Also, The LED flashlight located at the bottom of the portable radio can come in handy during emergencies, inside your house or outside. I'd say at $16.00, it's quite a deal.
Via: Got 2 Be Green