The existing land area will not be enough to sustain human population that is growing at an extremely rapid pace. Creative solutions are needed to tackle this issue, as it is likely to become even more critical in the future. The polyculture tower has been built keeping the future needs in mind and it will be developed as a zone where farming and allied activities will flourish together. This will help to meet the enormous demand for food in the future, that too in an eco friendly way, without emitting any carbon emissions. Surely, a building that supports so many eco conscious causes will be welcomed and applauded.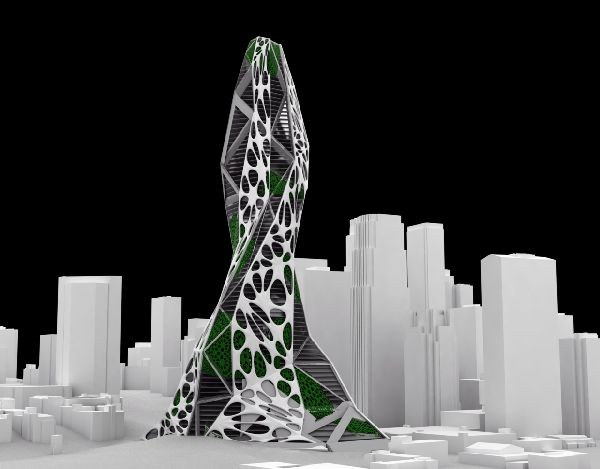 The building has been designed by a Savannah based landscape architect, Connor Nicholas. It will surely mesmerize the onlookers. The framework is not enclosed within straight lines, instead a curvy bottle shaped structure stands here, which looks a lot like a giant sized bottle of cola. The design is spell-binding and truly unique. The structure is supported in the center by a long column that runs through the entire length of the building. Criss-cross lines dash along the whole structure giving it angularity at many different spots. The building fits in a number of floors and stands tall, holding a number of geo-pods.
The structure has been constructed based on the concept of polycultures, a nifty agricultural practice. The concept of closed farming systems is employed for this production methodology and various types of organisms are raised and nurtured in one place. It is easier to control all life systems in this set up and it will help make food production environmentally friendly.
Via: Connor S Nicholas