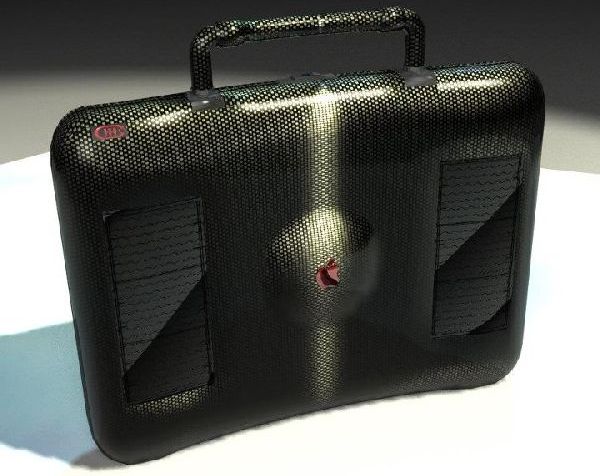 We have harped about a wealth of 'green' technology powered chargers for our mobile devices. We have reiterated about a slew of renewable energy fueled docks for our phones and mp3 players. However, this time we have come across something different, in the form of a full fledged suitcase, infused with ardently sustainable credentials. Christened technically as the Suitcase CH-ID 1, the 'contraption' in question is an suitcase case that doubles as a mobile charger, conceptualized wholly by Chimo iDesign.
According to their Facebook page, Chimo iDesign is a studio which specializes in conceiving products belonging to a range of fields starting from industrial design, interior design to architectural design. Following along those same creative lines, this innovative suitcase has been contrived with a classy, elegant bearing, complimented by its sleek visual features.
From the perspective of design, the material used for the case is lightweight yet sturdy carbon fiber for user convenience. As a matter of fact, the overall ergonomic factor is enhanced with some special structural considerations, like the gently curved facades to the side portions.
However, it is the green side of affairs that has really tickled our interest. The state of the art carbon fiber surface is embedded with solar cells for harnessing of sun's clean energy. This sustainable attribute in turn makes the suitcase a soberly designed contemporary mobile charger, for recharging your daily used electronic gadgets like the iPhone and iPod. In fact, the iconic Apple logo at the center bulge clarifies the designer's inclination towards the exalted electronic giant.
At the end of the day, the Suitcase CH-ID 1 poses as the apt fusion of a portable storage space and a 'green' charger for mobile devices. So, that insinuates proper functionality and conscientious sustainability merged into a singular scope, and tailored for office goers.
Via: Chimo iDesign @ Facebook