Fraunhofer ISE has opened a public hydrogen filling station in Freiburg, Germany, which has been created to serve as a demonstration platform for a clean fuel dispensing station network that is planned for the state. While many worry about the energy required to electrolyze water to produce hydrogen, this self sufficient filling station makes use of clean solar energy for the process.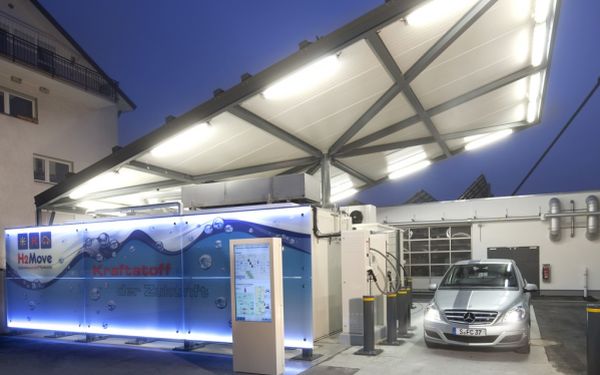 The roof of the station is equipped with photovoltaic panels that generate all the electricity that the station requires to produce hydrogen. The station features a 30 bare electrolyzer and a mechanical compressor that compresses the generated hydrogen to a pressure of 700 bar. The generated hydrogen is stored at different pressure levels and feature different pumps for dispensing hydrogen. The creators state that the pump can be used to refill cars, buses and bikes that run on fuel cells.
Fraunhofer further claims that just three minutes of refueling can help drive a car for more than 400km, which is much more than the average operating range of average electric cars that take hours for a complete recharge. Apart from refueling next-gen clean cars, the hydrogen produced can also be stored as an energy resource which can later be used to stabilize intermittencies in the electricity grid that get fluctuating power from various renewable energy sources. This new hydrogen filling station is expected to serve as a research platform that can be used to promote electric mobility for a cleaner environment.