Shelter, one of the basic human needs, has always been an issue and with the burgeoning population, there seems to be an even greater need. This fact is heightened during times of natural and man-made calamities. Think conflict and hurricanes and you get the idea. A novel project by two Russian designers, however, could just give the issue of shelter some hope. The duo named A. Goryainov and M. Krymov of Arch Group, have designed and built a modular 'Sleepbox' that houses two occupants and even has charging points for laptops and cellphones.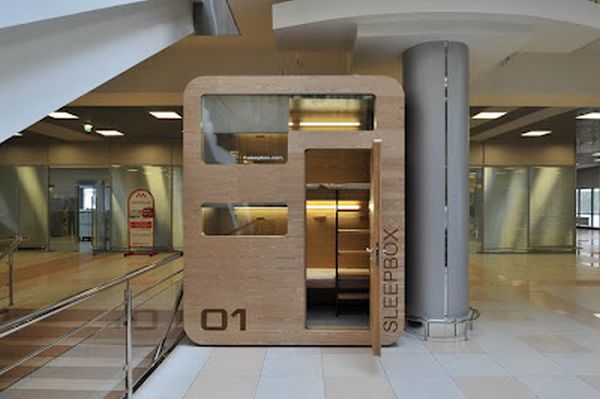 The innovative design means that the shelter can be set up anywhere. The cozy space i has enough room for two occupants to sleep in comfortably. Luggage can even be stored under the bed. The Sleepbox has general lighting as well as built-in LED reading lamps. The windows have been fitted with electric-drive blinds so you can sleep in privacy.
The unique concept has already seen takers in the form of Russia's Sheremetyevo International Airport. And, considering the small size, the interior is surprisingly roomy. A bunk bed provides enough space for two people while the lighting has been cleverly placed to allow even the lower bunker occupant to read in comfort.
While Sleepbox has been deployed for use at the airport and will serve as a relaxing zone for flyers, it can be put to other uses as well. It would be especially suitable for rehabilitation centers that usually house displaced people in makeshift tents. It can also be used in railways stations and provide a safer alternative to napping on platforms. The modular shelter can also be used in offices where tired employees or those working the nightshift can take a short nap. The simple lines and sparse yet cozy interior is also ideal for those looking for a place to stay the night but don't have the time hunting around for lodges and hostels.
Via: Gizfactory