While designers and architects have expanded their vision and incorporated a whole new array of features in the last decade or so which has seen exponential growth in green buildings and eco-conscious structures, there are still aspects where the popular trend needs to change. One such facet of modern construction is the assumption that all the residents of a building will have same taste in design and exactly identical needs when it comes to their homes and offices. Of course, there is difficulty in incorporating several designs and patterns in one edifice. But the Shelf Hotel designed by 3Gatti Architecture Studio aims to achieve exactly that.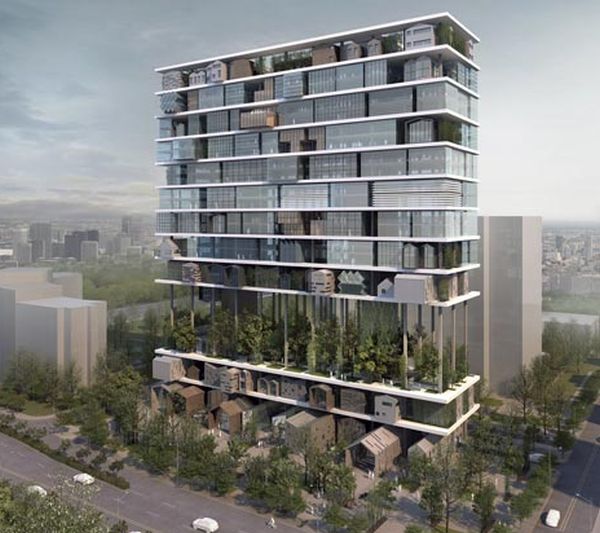 The designers of this proposed building in Xian, China, wish to add many little unique blocks that will ultimately constitute the building itself. While the lower levels will contain restaurants, hotels and similar commercial entities, the very top floors will host corporate offices and work spaces. It is the area in between that will be used for residential purposes and each floor seems to sport its own unique design with each home and office being crafted to specifically suit those who occupy it.
And while that is a wonderful feature indeed, the shining light of the edifice is the two floors on the lower part of the tower that will sport a lush green garden and will house varied fauna which should offer plenty of freshness to the area. This elevated garden features will help in ventilation as well and maybe the denizens of the Shelf Hotel building can cultivate a few vegetables here as well. The idea is to try and incorporate both cool green features and custom-design living, working and hotel spaces. It is indeed a wonderful idea and we will be waiting to see how well it is executed.
Via: Dezeen