The Emax Super Marine 45 from SCOD has become the first zero carbon superyacht tender in the world. Fitted with GM Allison hybrid transmissions, the twin CMD TDI V6s on the Emax jet propelled solar hybrid tender allow it to travel at a speed of up to 80 knots. The engine weighs just the same as a diesel engine does though it consumes 40 percent less fuel and still outputs 450 horsepower. In a virtually silent electric mode, the Solar Hybrid boat can travel at up to 25 knots and uses a 32 KWh Lithium UPS when it needs to be run as a zero carbon ship to shore shuttle.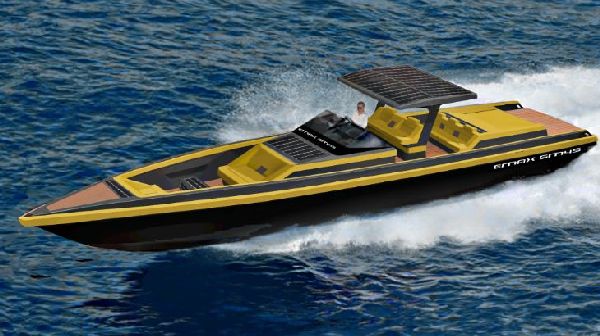 To deliver unsurpassed acceleration, the Emax Super Marine 45 uses Hi Torque RR Waterjets and allows users to engage a low gear on the infinitely variable transmission when the throttles are pushed full ahead. The tender hits max speeds after having selected the most economical rpm on the transmission once it is on a plane. Currently, the fastest most powerful tender in the world is the Carbon Epoxy Super Marine 45 from Ned Ship Group that displaces 1160 ft lb of torque and outputs 900hp. However, the Emax Super Marine 45 uses a 4KW Photo Voltaic SunPower Solbian array in its solar hybrid propulsion system which allows it to be 50 to 100 percent greener than other tenders in its class. To deliver the highest level of performance with the best economy, the Emax Super Marine 45 uses an Electrically Variable Transmission with dual modes, i.e., Series and parallel EVT as well as hybrid technology from Allison.
The Emax Super Marine 45 also performs optimally on the luxury scale housing up to 4 sunbathers on the sun bed as well as seating up to 10 people on its luxurious teak deck. The cabin of the tender also comes fully appointed with a sumptuous double bed as well a shower room with stand up head and a fridge/freezer, stove, and microwave fitted kitchenette. Up to six guests can have a sit down luncheon on the foredeck table which can also accommodate more guests when used for a buffet.
Via: MB50