Saunders Architecture has designed Bridge Studio, an artists' studio located on Fogo Island, Canada. The 306 square meter structure is surrounded by rugged landscape and a small lake and was freshly painted to help it blend into the background, a far cry from its earlier dilapidated condition. The Norwegian architectural firm designed the studio in an abstract style that seems to perfectly match the landscape.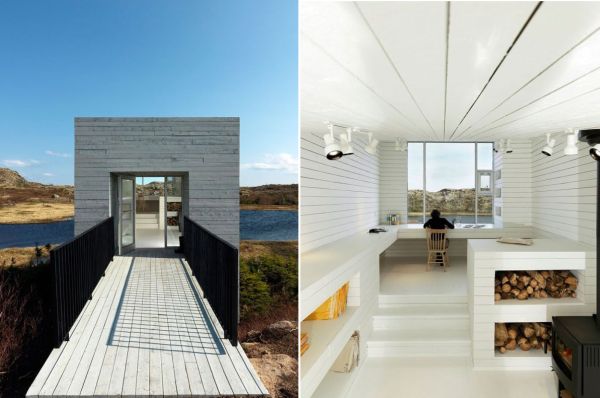 From the side, the Bridge Studio appears to be windowless parallelogram with no real amenities inside. But step inside and you'll be greeted by a wood burning stove, overhead lamps, tables and shelf space for artists' materials. Like the exterior, the inside is painted minimalistically although in an off white shade. The artist's desk overlooks the lake through a large window that lets in ample natural light and plenty of ventilation as well as serving as an inspiration for art works.
The Bridge Studio is held up by four piers, connected by a 16 foot bridge to the adjacent side. When approaching the studio, the structure tends to take on a more transparent feel owing to the installation of the large window and the glass entryway.
When viewed from the skies, the location of the structure in this isolated piece of land becomes more apparent. And, as contemporarily designed as it may seem, the Bridge Studio takes its styling cues from traditional Newfoundland fishing buildings. The tables inside mimic the simple cutting tables favored by fishmongers of the area, albeit with an artistic touch and feel.
We've always wondered how artists manage to create their art in bustling areas with little hope of escaping from the noise of daily life. The Bridge Studio, thus, offers them the ideal place to focus on the task at hand as well as draw inspiration from the remote and raw landscape.
Via: Homedsgn