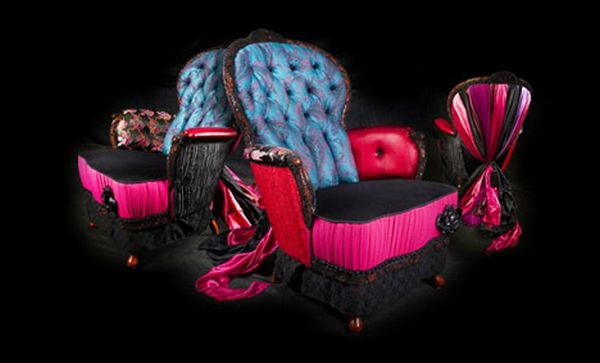 The eco conscious homeowner of today has a number of options to go green, and one of the best ways to do the same is by opting for the recycled furniture units. Trash is becoming trendy nowadays, and designers and furniture makers from around the globe are using reclaimed materials to make beautiful and creative furniture designs for modern green homes. By choosing stylish eco friendly furniture units, the homeowners can not only add zing to their space, but can also do their bit to save the environment.
Leftovers' recycled garment furniture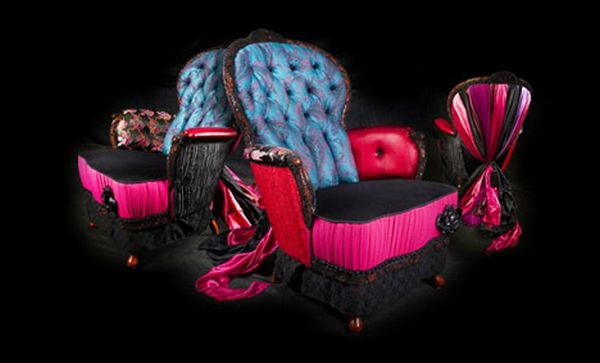 These stunning furniture pieces take you back to the Victorian Era, as each item is magnificently designed in a classic manner with multi colored fabric. The Swedish designers Linda Netsman and Jona Netsman, who work for the interior designer firm Leftovers, have created these splendid furniture pieces by making use of the discarded and unwanted garments. Keeping in mind the "pre loved can be re loved" theme applied to these furniture creations, the duo has reused obsolete and abandoned fabrics and created each piece of chair, sofas and divans with unique features.
Eco Chair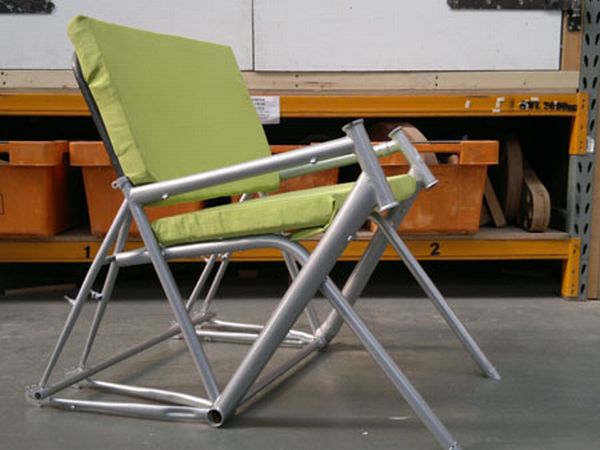 In an attempt to create eco friendly things out of existing products, designer John Wiegand-Forson has created the Eco Chair using two bicycle frames, some fabric and wood. The eco chair's backrest area was designed to offer maximum possible support and comfort. From the looks, it's hard to imagine that this chair has been made using recycled materials. Other than the bike frame chair, Wiegand-Forson has also created other stylish and trendy designs from used and existing materials, which are sure to liven up your decor.
Recycled cardboard furniture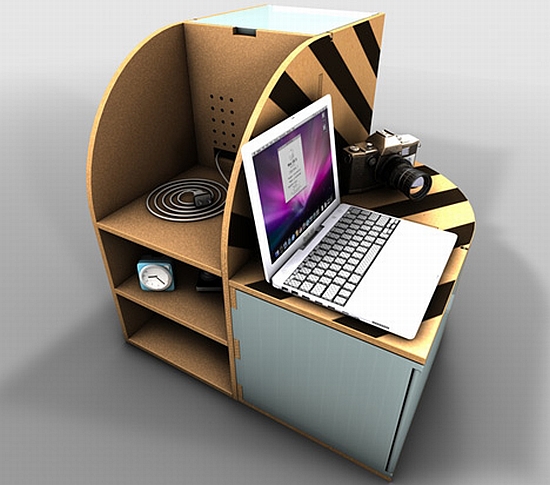 Designer Pedro Gomes has given new life to thrown away cardboards, and has designed modern and green interior decorative furniture for people who are eco conscious and believe in taking a step forward to save the environment. The concept utilizes cardboard and recycled polypropylene. The Compact concept furniture can be easily shipped to different places as five flat boards that can be assembled to make out a custom furniture piece in a quite less time. The unique furniture item created by interlinking of the boards is not only stylish, but also eco friendly.
Mulch chair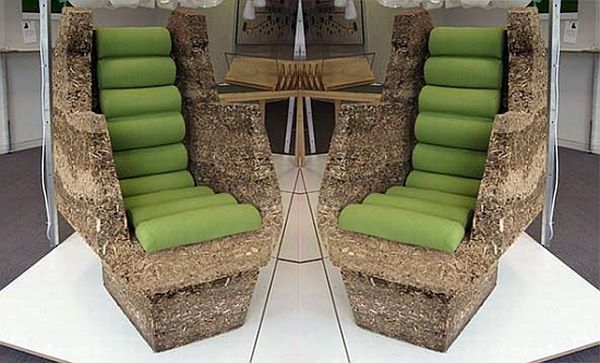 Showcased at the Designersblock London exhibition held in 2009, the 'Mulch Chair' highlights the theme of "Reuse, Reduce and Recycle". Designed by Craig McPherson, a graduate from the Edinburgh College of Art, the Mulch Chair is the first item of his Outcast collection of furniture items that are entirely made from the garden waste. Interestingly these furniture items are meant for the garden itself. The simple yet extravagant Mulch Chair makes use of garden trash and a bonding material or glue made of latex, which is sustainable.
Shredded paper furniture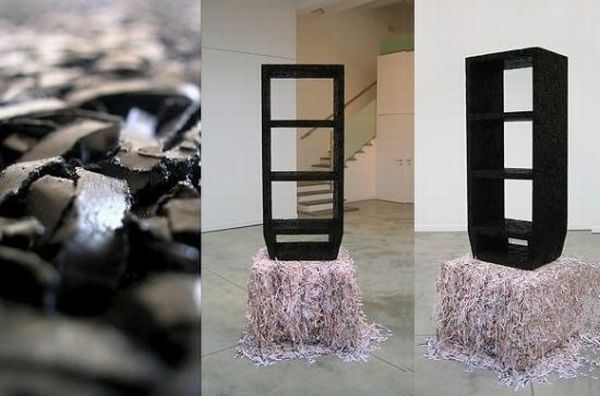 With due respect to the environment, eco artist Jens Praet has created outstanding forms of furniture by reusing paper. The furniture items that are made out of trashed paper in an extravagant style are a part of his initiative dubbed, "One Day Paper Waste". For the same, he collected waste paper, tore it into shreds, treated them with resin and then moulded this material into various shapes and styles, creating sustainable furniture.
Old drums furniture units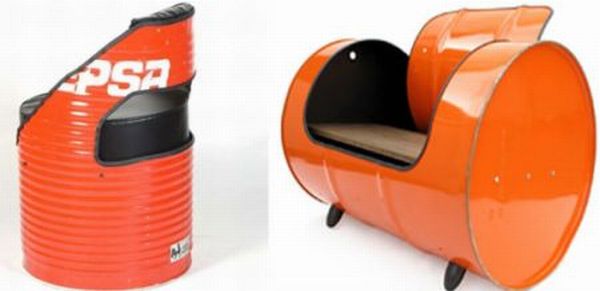 We often throw away the oil drums and barrels after utilizing the contents they carry. They are either mercilessly dumped as trash or if the consumer is eco conscious, they are given away for recycling. But, have you ever thought of reusing these drums as stylish furniture pieces for your home? There is no need to throw away the empty barrels as waste, as they can be transformed into sturdy furnishing items like the barrel chair, table base trend tub or an oil drum chair, which will make for an amazing addition to your sustainable living space.
Railroad tie furniture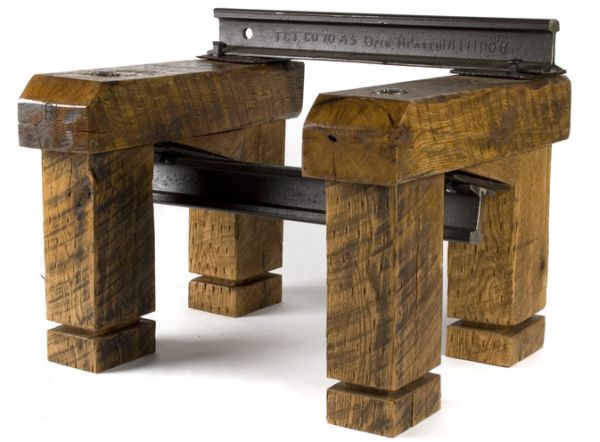 As the time changes and technology advances, old things are replaced with new and better ones. Things that become obsolete are often abandoned as trash. Same is the case with wooden railroad ties, which are being substituted by steel, plastic and concrete, as they are unable to carry heavy rail cars of today. Industrial designer Robert Hendrick and his father Tim Hendrick, found a better way of reusing these otherwise waste wooden ties, which they convert into interesting furniture pieces. The father and son duo started with the Rail Yard Studios where they salvaged old wooden rail ties and gave them a new life as elegant furniture units like benches, wine racks and tables.
Pomadas recycled cardboard furniture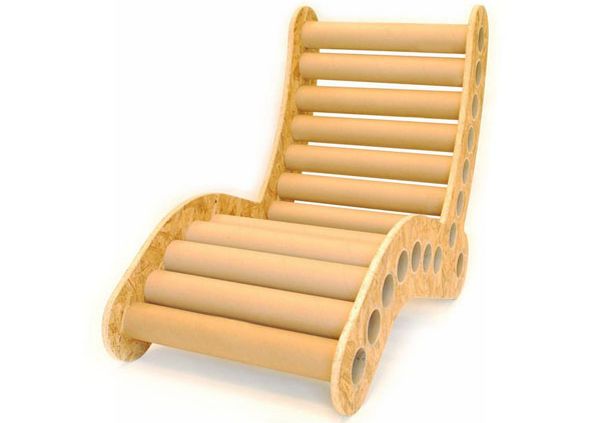 Antonela Dada and Bruno Sala, met while studying at the Buenos Aires Architecture and Design University. As the two had common environmental curiosities and concerns, they decided to come up with their own furnishing firm called Pomada, that deals with furniture pieces made by reusing old cardboard tubes. Eco friendly furniture items like tables, chairs and chaise lounges they create are quite inexpensive, but stylish. They make use of cardboard tubes, cut them in desired forms, fix them to frames made of recycled OSB and plywood, glue the pieces together with a non toxic adhesive and then finally coat them with hydro lacquer to give them the required shiny. The furniture made by recycled cardboard is biodegradable, lightweight and can be further recycled.
Dylan Gold eco friendly furniture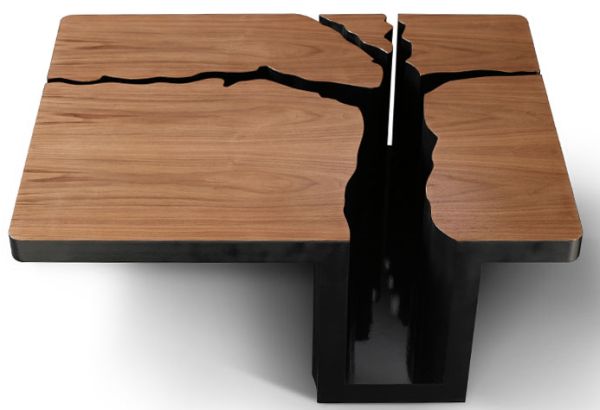 Eco designer Dylan Gold, who graduated in Applied Art and Design from Cal Poly San Luis Obispo, has brought a sustainable range of furnishing items that will add charm to your home decor. Called as the Dylan Gold Furniture, this sustainable furniture series is very stylish and functional. The furniture line, which includes "Chop Chop", "Crafty", "Stink Tree" and the "Cornered", combines beauty and technical innovation with a concern for the environment.
Medusa seating furniture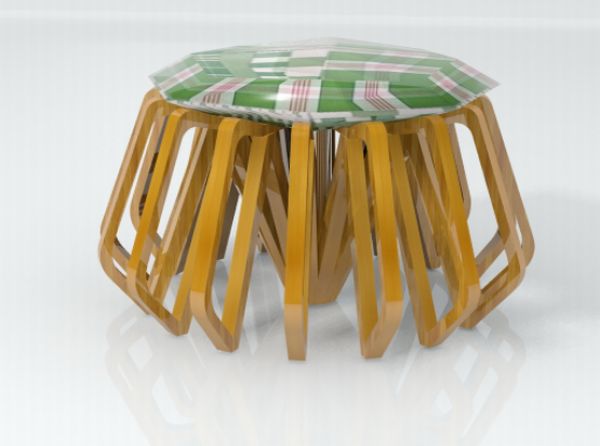 Designed by an Industrial Design Student from the Philippines, Mia Lambinicio, the Medusa Stool, is a low seat created out of bamboo strips conjoined to each other forming the shape of a jellyfish or medusa. The frame is made out of sustainable bamboo and the stool cushion is stuffed with left out fabric scraps.