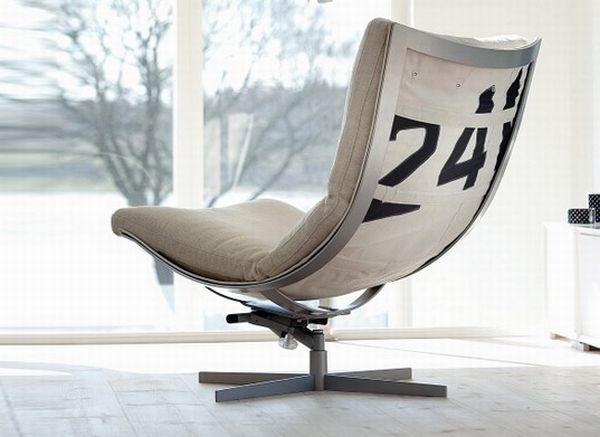 Sailcloth is made from different fabrics and is quite sturdy. It is tough and water-resistant and is good to be used in all kinds of weather conditions. Hardly any effort is made to recycle sailcloth even after knowing all the properties it comes injected with. It is thrown away most of times without exploiting its complete potential. But there are many who are recycling sailcloth and using it to make various everyday items. Below is a list of seven products that have been made using recycled boat sails:
Stylish Spinnaker Chairs Made from Recycled Boat Sails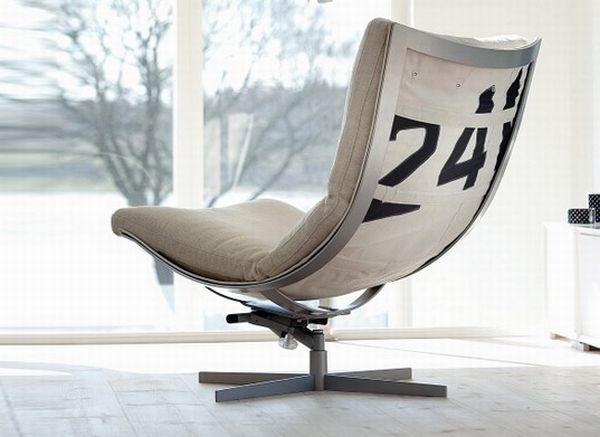 The awesome creation by Spinnaker may look like any other chair, but one close look and you will sense what makes them so special. Just turn the chair around and you will notice the awe-amazing piece of furniture comes draped in recycled sail cloth that is otherwise thrown away. The frame has been made using spring steel, which again is recycled and is further recyclable. The chair has a very nice curve that lends a lot of comfort and that too in an environmentally-friendly way. Customers are given an option to personalize their own chair, which further avoids over-manufacturing and wasting energy.
Sakku Traveller Solar Bag Made From Recycled Boat Sails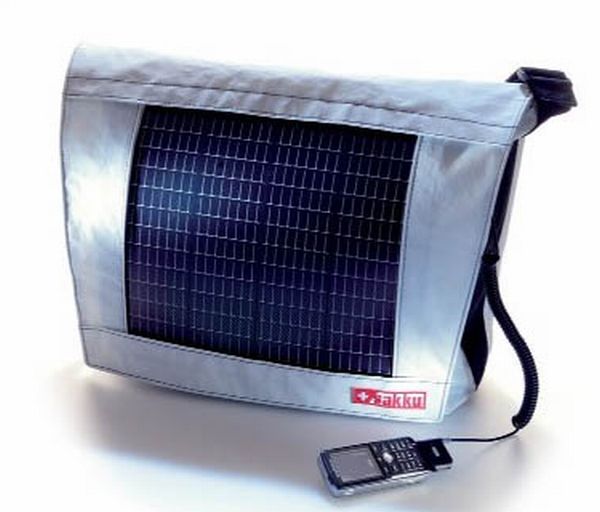 The market is flooded with bags that come wedged with solar panels, but the Traveller Bags by Sakku are still special. These eco-friendly solar creations get an additional clean and green streak as the fabric used to make these bags has come from salvaged boat sails. The bag can be used to carry 17" laptops and other gadgets as well. The solar creation can produce a power of 2.5W with the help of the integrated solar panel. Each Traveller bag carries an individual stamp that reads the name of the sea or lake where the boat was sited.
360 Degree Sailcloth Bags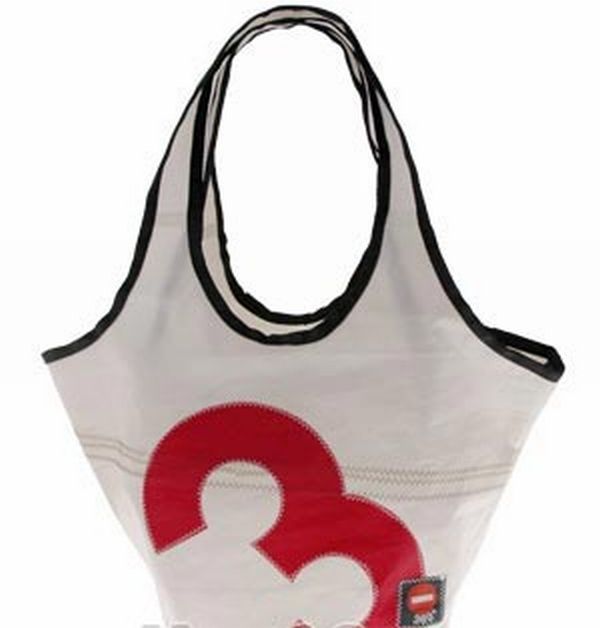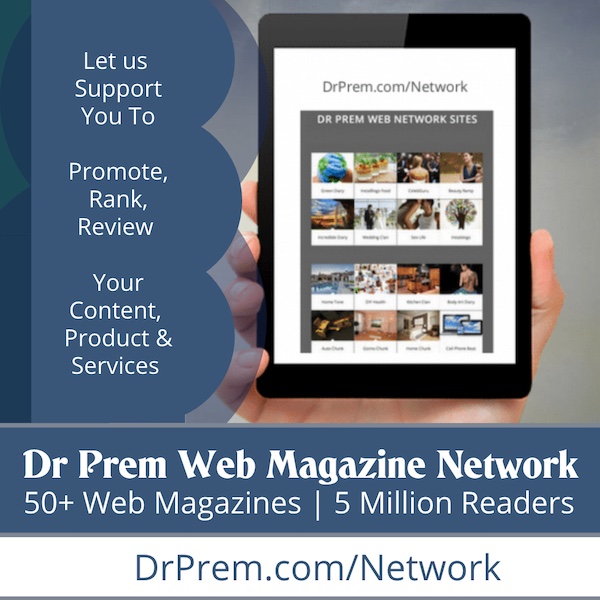 You must have seen and owned a variety of handbags, but I can bet there is nothing that can match with the eco-friendliness that 360 Degree Sailcloth Bags come tagged with. As the name suggests, these good-looking bags have been made from salvaged sail cloth. The bags are not only gorgeous but are also quite sturdy, which means they will last for a long time even if you use them in a rough manner. The use of sailcloth not only makes them tough but also water-resistant. So, keep all you belongings in the bag without worrying about spoiling them when it rains outside. All the bags are cleaned and bleached thoroughly before they are sold.
Sea Bag Pillow Covers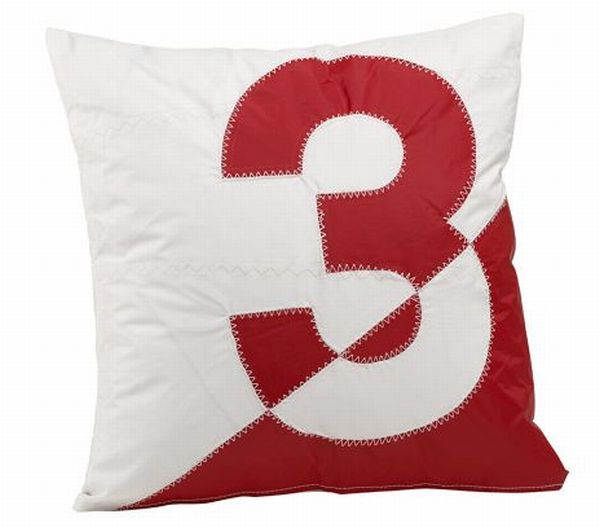 Slip into a world of beautiful dreams as you sleep with your pillows wrapped in Sea Bag Pillow Covers. The 20" covers are square shaped and have been made using salvaged Dacron sails. The pillow covers are quite vibrant and will make the area they are placed in look all the more attractive. The sailcloth is cut and decorated by hand. The design also features nicely concealed zipper closures and the covers can be washed in a machine as well. Each cover has a different image, which is striking and very vivacious.
Yoga Mat Bag – Recycled Sailcloth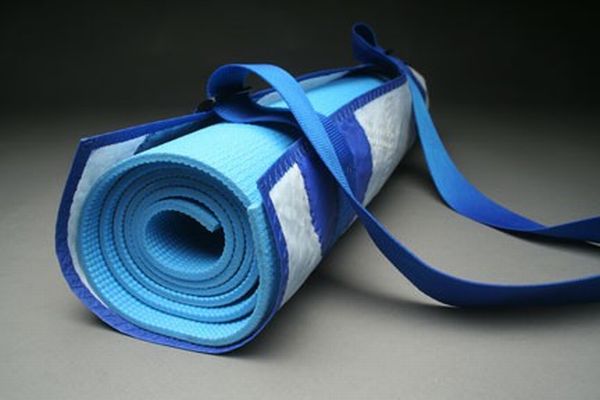 Yoga is great way to maintain good health. What better than performing this daily workout routine on a Yoga Mat that is carried around in a bag made from sailcloth. The Yoga Mat Bag is quite colorful, unique, easy to use and above all earth-friendly. Pick the bag and it will tighten, which will make it easy for you to carry the mat around. When you take the bag off your shoulder it opens naturally and reveals the mat placed inside it. The clean and green bag will delete all the pain that one has to face while stuffing a yoga mat inside a cylindrical cover.
Recycled sailcloth umbrellas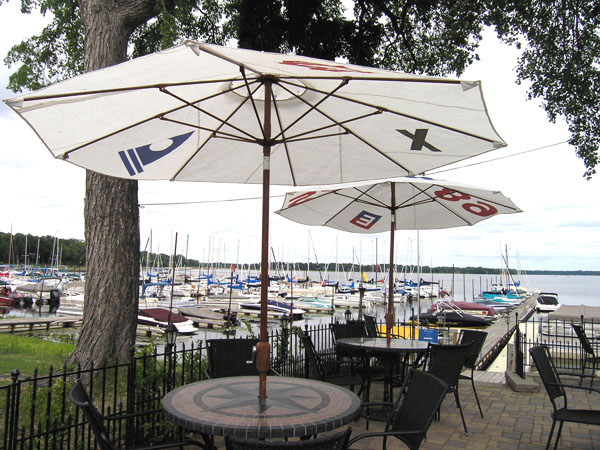 Here is an umbrella that promises to protect you from all the harsh weather conditions that too in an eco-friendly way. Recycled sailcloth was used by a company named Sail La Vie to make these chic umbrellas. Sail La Vie is known for sailcloth creations and sail repair and the company is located in Minnesota. Most of the material came from Johnson Boat Works and there is an option to get the umbrella customized by specific logos, numbers, letters and colors.
Recycled Sailcloth Coasters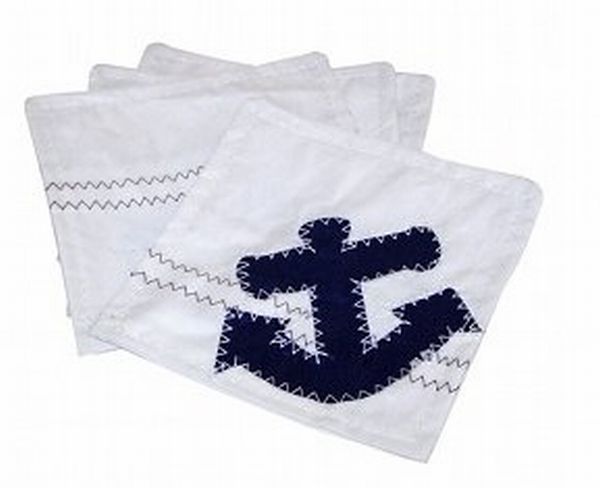 If you have been blessed with an eco-soul then Recycled Sailcloth Coasters will show this side of yours to everyone who visits your house. These beautiful coasters have of course been made from salvaged sails and measure 5.5 inches x 5.5 inches. They are available in a set of four and are quite durable. The right hand corner of each coaster features a navy anchor that makes it look very bright. Cleaning the eco-friendly coasters is very easy and just requires the user to wipe it with a damp cloth.