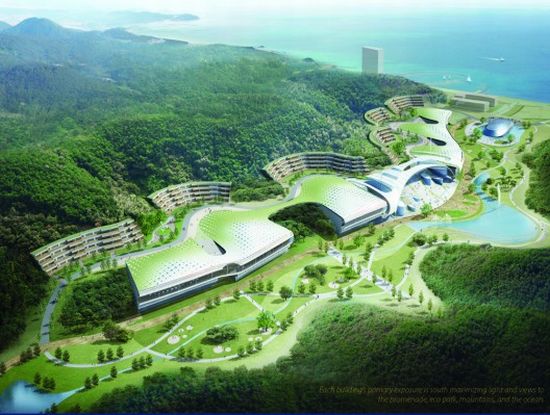 Eco Factor: New campus with eco-park and spectacular mountain and sea view.

SmithGroup imagines the new Marine Sciences campus for the Pohang Institute of Science and Technology (POSTECH), in Uljin, South Korea as an architectural masterpiece in the lap of nature. Taking full advantage of the site's natural beauty, their winning proposal suggests an eco-park with water features, paths and walkways, and areas for passive recreation.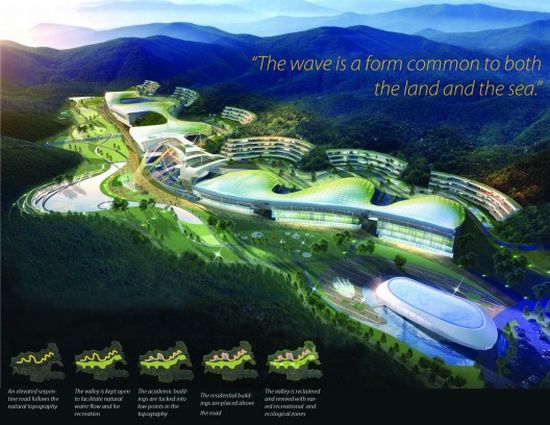 Deriving inspiration from a "wave," the campus will have buildings erected on the mountains side, while the valley floor will be preserved as an ecological park. The new campus will house administrative space, classrooms and research buildings. It will also include residences for students and faculty, which will be located 50 miles from the main campus in a secluded and hilly site on the east coast of Korea overlooking the East Sea.
The wave shaped campus will offer a mesmerizing view of the surrounding mountains. There are also plans to have an agricultural reservoir that will convert into a larger pond. This beautiful pond will get water from both the hills and runoff from campus and residential development. The water from the pool will pass through the vegetation, where it is filtered and naturally slopes down toward the sea. The new Marine Sciences campus offering breath-taking views of the green mountains and blue sea is no less than a paradise.
Via: ArchDaily