Electric vehicles look set to get a makeover after South Korean steel manufacturing giant, POSCO, announced that it has developed a new type of steel which it has aptly named POSCO Concept Electric Vehicle. The newly developed material will be used to create the bodies of EVs. The company claims that the steel is lighter than what is currently being produced in the market.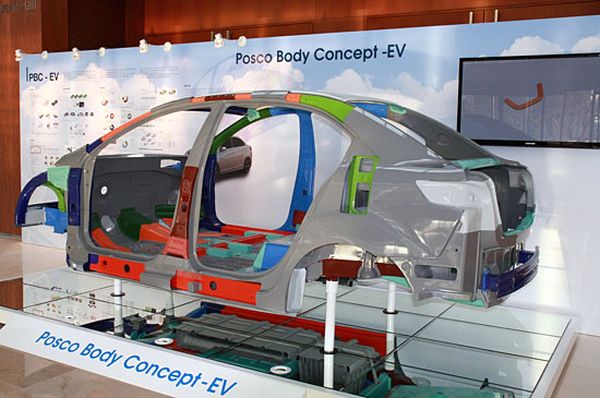 POSCO's CEO, Chung Joon Yang, said that the initiative was the result of the company's efforts towards green growth and prosperity with its clients. The newly developed steel is composed of ultra-high strength steel which is 40 percent more concentrated than the usual material used in car manufacturing. The company has also adopted two new methods in the production of the steel called hot press forming and multi-direction roll forming.
The company further claims that a vehicle made of PBC EV steel could help reduce greenhouse gas emission by 50 percent as compared to ordinary cars. POSCO has said that it can develop the new steel without additional production costs as it uses similar methods to those already in use. The manufacturer also plans to make efforts to use cost saving technologies and light-weight steel materials for cars which are more likely to suit the requirements of its clients.
This isn't the first green initiative for the company. Earlier, it helped Seoul's Yonsei University by donating KRW 20 billion for the construction of a four-storied energy efficient office building and another three-storied residential building. The project is popularly called the POSCO Green Building.
The structures will be constructed from earthquake-resistant steel provided by POSCO. It is also said that the buildings will possibly help reduce about one million tons of carbon dioxide emissions per year since the electricity that will be used will be produced from 100 environmental-friendly energy sources.
Via: Steelguru