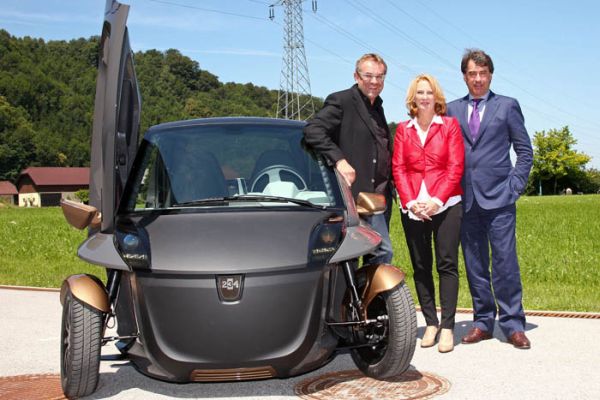 People thinking of eco friendly cars with zero emission have a valid reason to smile. Motor manufacturers across the world are offering an interesting variety of eco friendly cars that run on fuels other than petrol and gasoline. These cars reduce carbon footprint and have high fuel efficiency as compared to conventional petrol and gas guzzling cars. With urbanization on the rise and dearth of parking spaces, these cars have a compact and sleek design that lets them steer effortlessly thru crowded areas. Ecological cars are generally powered by electricity generated from batteries, solar power, water or hydrogen.
Here are seven different eco friendly battery powered cars that have an immense impact on green living.
1. Audi Urban Concept
This two seat, battery powered car comes with a light weight body approximately 480 kg, that is ideal for cramped urban spaces. Available in open top and hard top forms, the latter version has a sleek backward sliding canopy that lends a futuristic look. Powered by a 7.1 kWh lithium-ion battery, it has an interesting range of up to 45 miles and speeds up to 62 mph i.e. 100 k/hr. The wheels are 21 inches in diameter with blinking LED light strips in the protective plates surrounding them. This cool eco car is contrived from carbon fiber and aluminum. Besides, two 15 kW rear mounted e-tron motors provide propulsion.
2. Volkswagen XL1
This is a plug-in hybrid car that runs on both diesel and electric power. Armed with a 27 HP electric motor, a 48 HP two cylinder turbo diesel engine and a lithium ion battery, this concept car has a sleek design and can cover up to 35 km in electric mode.The body is made of carbon fiber reinforced polymer(CFRP) that reduces the total body weight. In addition to this, it has fully covered rear wheels that avoid air turbulence and sleek LED headlamps.
3. Nissan Land Glider
This twin seat, electric battery powered concept car has a bubble canopy and an airplane styled steering mechanism with side hinged doors. It has a computer controlled steering with a drive by wire arrangement in addition to an interesting feature: It can lean easily at road turns just like a motorbike.
4. Peugeot-Citroen VELV
Developed by french manufacturers, VELV stands for Véhicule Électrique Léger de Ville meaning light weight electric city vehicle. This compact, light weight battery powered concept car comes with an 8.5 kWh lithium-ion battery and a 20 kW electric motor for propulsion. It has a trendy look incorporated with the rear wheels arranged closely to give it a tricycle look. The doors swing upwards. This concept car has an amazing speed of 110 kmp and a range of up to 100 km on a single charge. This car has been specially designed for corporate fleets and rental car companies.
5. Murray T25/T27
This hybrid city super car designed by Gordon Murray, works on both electric power and petrol. Made of tubes, sheet metal and plastic panels, this concept car is powered by 12 kWh lithium-ion battery and has a 25 kW electric motor to give a speed of 105 km/h and 100 mile range in a single charge in addition to a 660cc turbo petrol engine from Mitsubishi. It has an openable canopy hinged at the nose with a side hinged door. Besides, it has an amazing ability to move and park within a compact turning circle of less than 20 feet.
6. Renault Twizy
Ideal for city steering, this ultra cool concept car has a compact, sleek footprint. It seats two and weighs just 450 kg. It lets you take pleasure in open-air driving and has additional lower panels that offer protection from wind and rain. Powered by a 15 kW motor, it has a 7 kWh lithium ion battery placed under the front seat that gets charged fully in just 3.5 hours. This concept car offers a 100 km range. This is just the right thing for novices learning to drive in traffic areas, for acquiring a driving license. The best part is that it comes in two versions, one that requires a driver's license and one that does not( this however depends on the country in which this particular version of the car has been purchased).
7. KTM E3W
Designed by Austrian motorcycle maker KTM, Austrian Institute of Technology and Kiska, this trendy and smart concept car is powered by 6.5 kWh lithium-ion battery and a 15 kW (20bhp) electric motor that gives it a modest range of 60 mph on a single charge. It is a three wheeler car with a light weight plastic body that weighs just 380 kg and has Lamborghini style scissor doors. It offers seating space for two and is compact enough to maneuver thru city traffic, comfortably.