Oasis Kitchen is going to be a sophisticated and technologically developed kitchen. The kitchen will work proficiently for future generation. Focusing especially on future young generation, Oasis kitchen will simply be a provider of great delicious and hygienic dishes. The whole kitchen concept is going to come under a green or environment friendly movement. This Oasis future Kitchen will be the reflection of human intelligence. All possible safety and environmental measures are to be taken up for the concept. It is expected that the kitchen is going to be a source for a family's healthy body and healthy mind. Oasis's futuristic kitchen concept will be built on this simple idea only.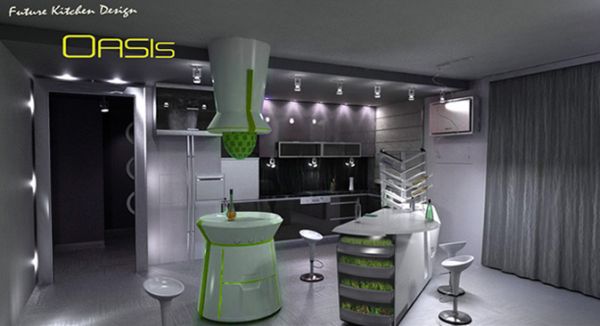 Oasis future kitchen concept is to be manufactured in a European style and would take an oriental grace also. So, the kitchen will bear a universal design that would be meant for every advanced green loving family. This kitchen will be manufactured by providing minute observation to every related detail. Thus, the kitchen would serve every modern people economically.
White and dark green colors are associated with human civilization inextricably. The significance of this kitchen is going to fall on its representation of two natural and fundamental colors. Thus, Oasis Kitchen concept would bring colors and will provide the true meaning of life. Every time, one will cook for his or her family, the kitchen will convey message of his or her responsibilities towards environment. On the other hand, white will bring sacred, clean and organic food.
Oasis kitchen concept is going to be equipped with instant smoke absorber, safety alarm in case fire, long lasting gas burner, induction cooking system added and spacious areas to keep several things systematically. The kitchen will bear LED lightening and will have solar powered lightening option also. The idea is yet to take its practical shape but it is confirmed that Oasis will achieve it futuristic kitchen dream within a few decennary.
This beautiful kitchen concept is going to focus on utilizing maximum space. An individual will love to enter and to work for preparing his or her favorite food. Three to four people would be able to work in an Oasis kitchen without any disruption. The room will be specifically meant for preparing food and will be equipped with technologically advanced applications.
A host of intelligent features are to be installed in this green kitchen. This concept will also bear two unlike kitchen table to cook two dishes at the same time. The kitchen will also give a shopping list about what you should buy when preparing a meal. The counter-top portion of this new generation kitchen will provide an advanced engineering.
The manufacturer will built a smart kitchen's counter-top with touchscreen control options. The kitchen desk itself is going to be a help-desk and will be a recipe provider. The idea is to place an intelligent 3D sensor camera with computer programmed food preparing instructor. The counter-top of the kitchen will also bear an inbuilt pico-projector to provide nutritional information correctly.
Source: Yifeili