The Michelin Challenge Design is a competition that seeks to serve as a platform for original vehicle concept works by designers. For the year 2012, the challenge was to conceive of a futuristic lightweight family car that would be able to transport four to six adults in comfort. Song Wei was an entrant in the competition whose design called the Poly Plus Concept has caught our attention.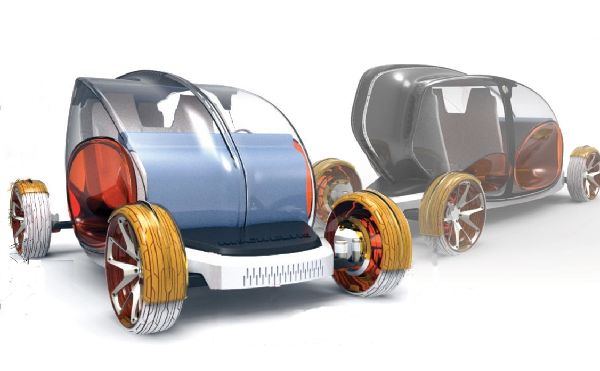 Wei derived inspiration from clamshell plastic packaging that's known for its strength without support structures. His four seater Poly Plus Concept is modeled along the lines of the packaging method and is lightweight and durable like its muse.
It makes use of a vacuum formed body shell that's cheap to construct with a high body to strength ratio. It can be designed in various shapes and colors as well, owing to the versatility of clamshell designs. The car will sit on a carbon fiber chassis while the body will be constructed out of aerospace spec polycarbonate plastic. The two materials offer a lightweight solution, which is extremely strong and crash resistant.
Unlike the cars of today, Poly Plus takes a minimalistic approach in design. The seats and the steering wheel have nothing that isn't required in order to maintain the light weight of the car. That's not to say that it isn't aesthetic, however; instead, Poly Plus is attractive owing to its basic form and serves as a neat little transportation solution. For added space inside, the rear seats can be folded down to accommodate luggage and other belongings.
Poly Plus makes use of bi material injection molding to create a single wheel. This adds to the lightweight, and the easy equipping method means that users will have no trouble changing the tires. A battery pack in the front of the car delivers power to the Poly Plus, though there's no word on the type of electric motor it will use.
Via: Teosongwei