The global economy as we all know is united together in a bond, thanks to the efficient supply chain communities and the coordinating efforts of the logistics industry, both locally and internationally. One basic element of this global infrastructure is heavy duty trucks and their use is indispensable. This makes both human life and the environment vulnerable to the side effects of depleting fuel sources. So the logical solution to this problem is developing fuel efficient trucks and we are here to talk about the progress that Mitsubishi Fuso Truck Corp (MFTBC) has so far achieved with respect to fuel saving technologies.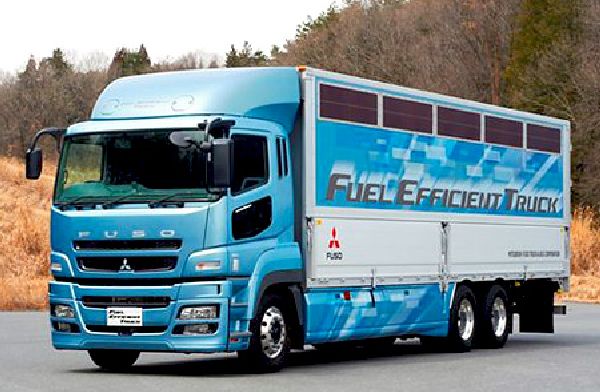 For better management of aerodynamics, reduction in air resistance is important and for this MFTBC has employed a drag foiler, a rear spoiler and also a side skirt, these prevent the wind to be directed toward the container and reduce the negative pressure.
In addition to economizing fuel consumption by managing air resistance, power generation is another segment witnessing transformational progress. Generally power is produced on acceleration, but with MFTBC's technology, it will be generated on application of engine brake or deceleration. 30 PV's have been installed on the roof and the sides of the rear side and help in reducing the burden of the alternator for generating electricity.
All the above technologies and the reduced weight of the vehicle have improved fuel efficiency by almost 10 percent and tests have validated this. 10 percent may not seem a good number, but sure it's a beginning for change soon to be seen.
Via: Techonnikkeibp