Mercedes-Benz is all set to display two of its hybrid variants of E-class. The 2012 Detroit Auto show will feature the diesel (E300 Bluetec hybrid) as well as gasoline (E400 hybrid) versions. The manufacturer boasts of their intelligent modular hybrid concept applied in both these versions. The combo of a lithium-ion battery pack and a 20 KW electric motor produces 184 pound-foot of torque. Greatest feature after all is that either of the diesel or gasoline engines can be paired in such a system. You are going to get automatic start and stop feature that increases the fuel economy and reduces emissions.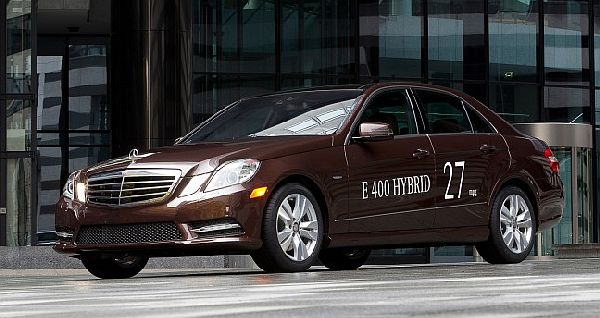 The E400 hybrid will have an electric motor coupled with a 3.5-liter V6 gasoline engine giving 302 horsepower and 273 pound-foot of torque. Mercedes claims to provide EPA fuel economy of 24 mpg in city driving and 31 mpg on the highway, which is slightly on the higher side compared to E350 Sedan.
The E300 Bluetec hybrid will have an electric motor with a 3.0-liter V6 turbo diesel resulting in 201 horsepower and 369 pound-foot of torque. Initial testing has revealed an acceleration time of 7.5 seconds from 0 to 60 mph and gaining till 150 mph. The fuel economy on the offering based on initial testing in Europe is at 56 mpg.
E400 hybrid is initially all set to be sold only in US markets. China and Japan will also be having their share later. However, E300 Bluetec will be available for European customers as sedan and wagon as well. It is said that Mercedes-Benz will be the first manufacturer to sell a diesel-hybrid production model in Europe. Watch out for the 2012 Detroit Auto Show to have a glimpse of these two models.
Via: Inside Line