Recycling is a great way to fight pollution. To make people aware of the importance of recycling, Coca Cola, one of the world's major soft drink manufacturers, has erected some big structures out of empty Coke crates in South Africa. One such recent structure, named the Elliot, is situated at V&A Waterfront, in Cape Town. The giant red statue is designed by agency Porky Hefer.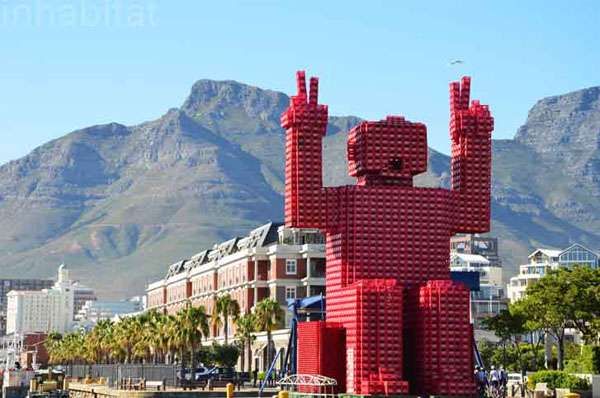 [Photo © Inhabitat]
The Elliot, is a 60 feet statue, which is built from 4,200 abandoned plastic red Coca Cola crates. The entire structure weighs a whopping 27 tons. The massive statue stands at V&A Warfront with fingers of its two hands spread to form the symbol of victory. Indeed, it is amazing to see the Elliot in the serene and calm background of Cape Town.
The Elliot, sends across a sacred message to the passers by about the importance of recycling and the need for a green world, which is highly sought after in the wake of global warming and other environmental challenges.
Anyway, the Elliot is not the first statute from Coca Cola with the same purpose. The beverage company built a similar crate man in Johannesburg on the occasion of the last FIFA World Cup. Let us hope, these kind of attempts will give light to the world on recycling, and people will recognize how it can contribute to the world's green metamorphosis.
Via: TrendHunter