America's Sin City is to go solar with a massive 100MW, 540 foot solar tower. The new solar power project, named the Crescent Dunes Solar Energy Project, is expected to harvest 10 to 15 hours of sunlight a day for immense productivity. The 100 foot receiver on top of the solar tower receives solar energy from a field of 10,000 large mirrors and is to power up the Las Vegas Strip.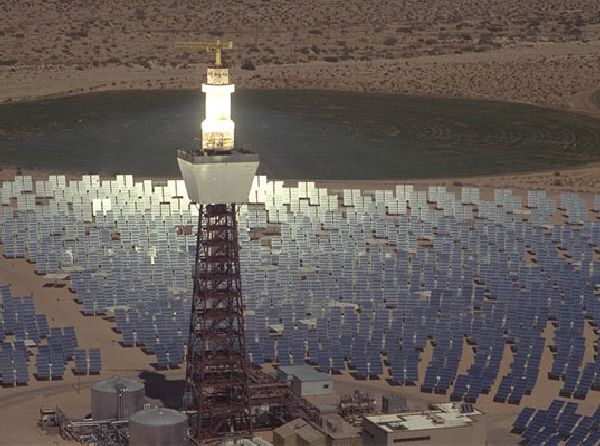 Nevada gets good amount of sunlight throughout the year. Indeed, this solar project is planned in a way that it can utilize this huge amount of sun exposure for power generation. An American firm, called SolarReserve heads the Las Vegas solar power project, which makes use of a molten slat storage system to deliver energy to the grid.
SolarReserve intends to finish up this project by the spring. It aims to produce 110 megawatts of power by the end of 2013 from the tower. Application of advanced solar panels, storage system and other technologies will make the solar tower project a huge success. Hopefully, the world is going through a variety of options for sustainable power. Solar energy is gaining in huge popularity across the globe. Researchers are working hard to develop highly efficient solar techniques. The Las Vegas' solar tower project is certainly to become a shining star in solar energy production industry.
Via: Inhabitat