A Manitoba couple is building one of the first-ever "earthships" on the Prairies. It's an eco-friendly house constructed with old tires, pop cans and glass bottles. Kris Plantz and Nicole Bennett are putting the finishing touches on their house which, once complete, will be made primarily of earth, concrete and recycled materials. Packed with dirt, 1,200 old tires are the bricks of their "earthship" – an off-the-grid home made of recycled materials, in which the main source of heat is the sun.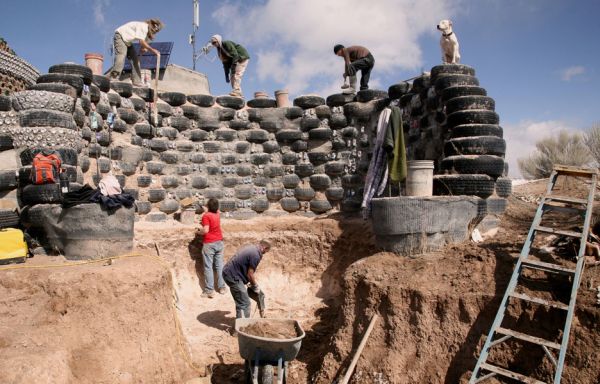 The earthship concept was developed in the 1970s in New Mexico but eco-architecture has really taken off in the last five years as more people try living off the grid. Earthships are the brainchild of Michael Reynolds, a New Mexico-based architect and the founder of Earthship Biotecture, a company that designs and builds homes constructed with about 45-per-cent reused materials, including plastic and glass bottles, cans, reclaimed wood, natural plaster and stone, and reclaimed metal from washing machines and refrigerators. The former city dwellers' living space, carved out of a Manitoba field, is one of the first-ever completed on the Canadian Prairies.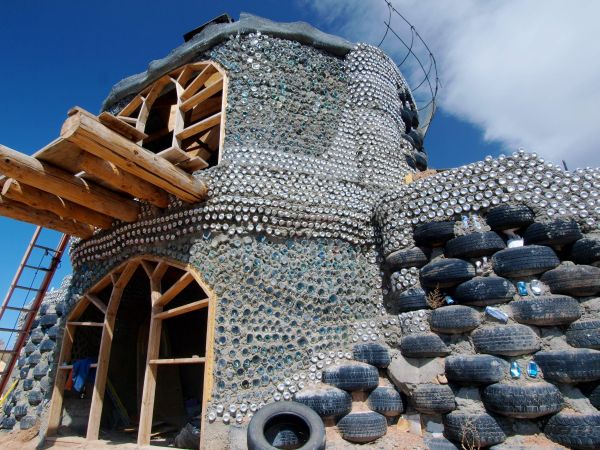 How they will do it?
Electricity will run on solar power
Water will come from cisterns that collect rain and snow
Heat from large windows will moderate temperature
The heat generated will also feed two year-round gardens.
Despite extreme Prairie temperatures – around a high of 30 C in summer and -30 C in winter – the homeowners say they will make it work. And, they estimate they'll be spending less to do so.
The house cost more than $200,000 to build, but once their home is complete, Plantz estimates they will likely be able to live off $10,000 a year or less.
"We're not paying for heating and cooling, that's huge," Plantz told CTV News. "We are not paying hydro bills or anything like that, so we're not paying for electricity." Simple living is an idea more people are embracing as debt levels continue to rise. As many as 50 of the extreme eco-friendly homes are believed to exist in Canada, most located in British Columbia and southern Ontario where the climate is more moderate. Plantz and Bennett hope their new abode will also serve as a teaching tool for those looking to live green. The popularity is definitely growing with more than half the total international orders were coming from Canada.