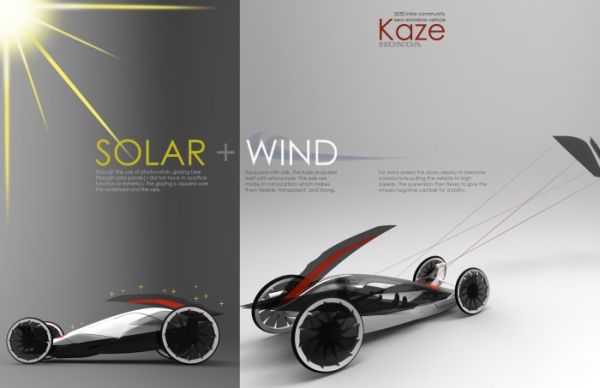 When we talk about only sustainability, the field becomes expansive and replete with a myriad of green technologies. But when we narrow down the scope of sustainability to our ever thriving automotive industry, consumers would be overwhelmingly interested in the overall emission quality of the product vehicle. In relation to this, Detroit based industrial designer Leonard Takada has righteously conceptualized his version of a sustainable vehicle, which would boast of not low but completely zero carbon footprint.
Contrived for Japanese automotive giant Honda, the futuristic design is christened simply as the Kaze. According to the designer, the vehicle concept was an entry for a competition that demanded zero emission automobiles for the year 2050. Taking that into account, we surely are enticed by the bold curvaceous lines complimenting the refined yet compact chassis. The classy wedge shaped form is supported by a system of slightly tilted wheels, while the driving space (cockpit) is shielded by transparent glass for an expansive view.
But beyond the allure of its visual essence, it is the ardent green credentials that have managed to tickle our fancy. The so called 'power train' of the automobile will be comprised of separate solar and wind energy systems. The solar energy component in turn will have a specially glazed (see through) solar panels embedded on the wind shield and an extending 'sail' on the rear side. This sail in itself is related to the wind power mechanism, which would be used for the car propulsion during high velocity winds. Finally, there will also be a small parachute mechanism at the front end of the car, ready to be deployed during those blistering speed romps through the open spaces.
So, all in all, the combination of these sustainable systems makes the car totally devoid of any carbon footprint. Obviously, questions can arise about the inherent practicality of such components. But then, we should also remember that green technology has every chance to cope up with the fascinating requirements in the very far off year of 2050.
Via: Coroflot