More power and go faster, maybe that's what Shawn Lawless and his crew members in his EV racing team always thrive for and try to achieve, no matter what it takes. In a recently held drag bike race in Virginia Motorsports Park, they achieved a new feat in this direction. They were able to achieve an astonishing 201.37 miles per hour with their Rocket drag bike, which is specially designed to deliver maximum speed and power. The bike traversed the quarter mile long strip of the race track, just within 6.94 seconds. Definitely that's nerve wracking.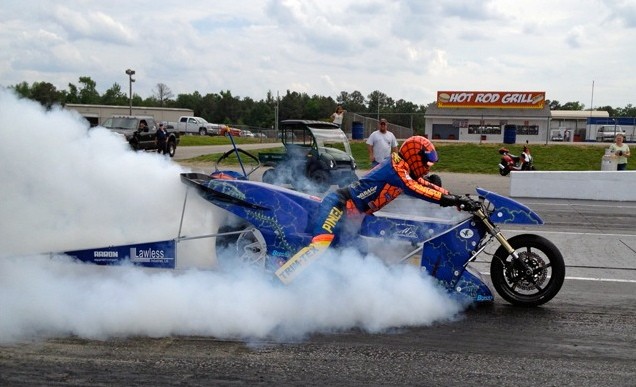 In the driver's seat there was Larry McBride, also fondly called Spiderman. When the engine was in full throttle and the bike was at an awful amount of speed, he was seen adjusting his body weight on the bike, through skillful maneuvers, to keep the bike steady. At such heavy speeds, this kind of body weight adjustment can actually make the difference between retaining the control over the bike or losing it. But at that outstanding speed, you should be brave and skillful enough to do so.
This newly built Rocket has some striking similarities with the OOC built bike launched back in 2010. But they have given enormous amount of effort to give it some much needed upgradation and changes. At its heart it holds a 13 inch DC motor engine, built by Dennis Berube. Earlier it had two separate Zilla controllers to deliver charge from the battery, but now it has a fully modified custom made Zilla box, which is capable of delivering a stunning 4,000 amps of current from the battery, which is a great boost to the engine power.
Its robust engine is capable of producing more than a megawatt of energy, which can easily tear apart any ordinary tyre on the tar. Its heavy duty 14.2 Kw/h battery is custom built by High Tech System.
Altogether it's a culmination of superb speed and power, to bring thunders on the road, constantly trying to push the barriers of speed.
Via: Autoblog