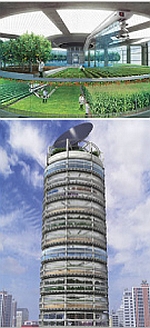 Now, this is what we can call a real fruitful plan. The Entertainment Capital of the World, Las Vegas synonymous with entertainment, lavish casinos and rapid gambling, unrestricted alcoholic drinks availability. By no means the most inviting place to squander away money, the latest attraction of the city of Las Vegas will be the world's first 30-storied vertical agrarian farm.
Definitely calling for praise, this productive farm hopes to feed 72,000 stomachs and also become the latest tourist attraction of the already much loved city. The project cost estimated initially is of about $200 million dollars. The Nevada state officials count on this project to earn revenue of approximately $40 million dollars from production and tourism. It will be a money-spinning business that can give a casino thirst for water.
This will be the first vertical farm to be ever built. With most people preferring to live in the urban areas, this vertical farm and the agricultural land is being used to build houses for the ever growing populous, this seems like an ideal way out. It not only promises a new way of utilizing the problem having less agricultural land as well as providing fresh food to the urban populous. Planned specially for smaller sized plants like strawberries or lettuces, you will also find miniature forms of plants like banana.
The project also opens doors toward a envisaged future of agricultural development. Though the project will take a few years to get into business, it sounds like a hot favorite already. If Las Vegas is in the picture then how can it lack the hype and excitement? And, who really cares about food, when you are in Las Vegas?
Via: Next Energy News