Being close to nature is a huge deal in Japan which is exactly why the Isetan Shinjuku department store hired botanical artist Azuma Makoto to create a series of living sculptures to bring the outside right into the store itself. The living collages are basically lush, leafy plant sculptures that are used in place of ads throughout each department and pervade the retail experience while uplifting the mood of shoppers. Named "Collapsible Leaves", the sculptures are a part of the "The Art of Plants" exhibit created by Azuma Makoto which covers the walls, clothing displays and columns in the department store with leafy installations.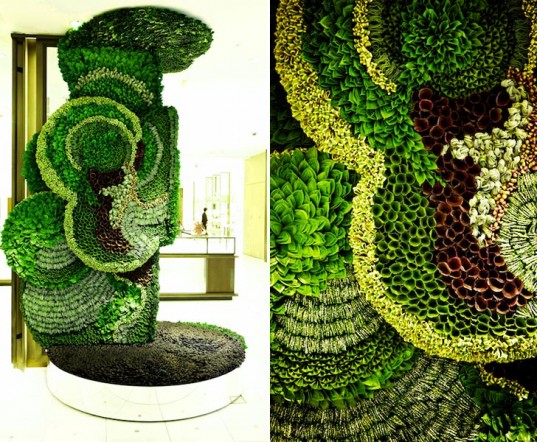 ---
Merging the beauty of botany with fashion design in a curious interplay, Makoto's installations draw a connection between the art of nature and the art of clothing which also pays a great tribute to the new branch of the oldest department store in the country. Makoto's leafy creations are also complemented with a number of museum-like displays and an internal ad campaign that include artistic shapes and multicolored three-dimensional plant sculptures, carefully controlled ivy, swirls of layered leaves layered over couple mannequins within the glass displays that proudly declare "Welcome to the Fashion Museum"
To mimic chandeliers, each department has also been given mirrored ceilings that reflect the different shades of green from the "mandala" inspired shaped plant sculptures hung from them. The installations is in the grand lobby are the most breathtaking of them all and include mobiles like hanging plants, sculptural organic shapes and a tapestry like 10-foot-high plant that covers an accent wall. Of course the installations do take a lot more upkeep than the average indoor plant though it also does add a llot more wow factor to the space than regular old cacti displays.