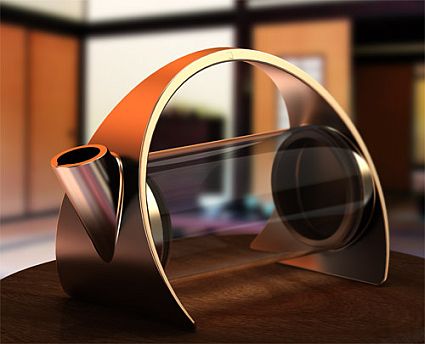 Kitchen appliances sure make our life easier; every task is virtually done by appliances these days. It's easy to assign the task to these gadgets and relax with your family. But wait, do you really need all the appliances that blow up your electricity bills? Did you know that on an average, $126 per year is spent on powering one's refrigerator? If you haven't given it a thought so far; well, it's time you do so.
There are a number of energy efficient green kitchen appliances in the market that promise to slash your electricity bills. Check out a few of them and see how they fit in your kitchen.
Refrigerator: Have a look at the Sub Zero 601R refrigerator. The refrigeration system ensures the freshest food and energy efficiency requiring less energy than a 100-watt bulb and will cost a mere $37 per year to run. A door alarm will let you know with an audible beeping if the refrigerator door is left ajar.Costs $4,310 to $5,870

Teapot: Dump your boring teapot and get yourself a eco-friendly teapot that you'll be proud to own. If you thought recycled products look drab, take a look at the stylish Sorapot that'll make you drool. Sorapot is a modern teapot designed to brew heat-sensitive green and white teas. The investment-cast aluminum arch acts as a large heatsink that quickly dissipates the water's heat as the tea steeps, preventing the bitterness that comes from oversteeping in too-hot water. Costs $150.
Kitchen Scale: If you are a passionate cook who uses weighing scale to dish out meals regularly, you should be looking at Tanita Solar Power weighing scale that uses solar energy to power the scale. Costs $60.
Coffeemaker: Get great tasting coffee, automatically brewed where you live, work, and play with Everbrew Built-In Coffeemaker. The coffee brews directly into an insulated carafe, which keeps it hot all day without electricity, just like a thermos. The EverBrew built-in coffee system installs easily in your kitchen, home office, or just about anywhere there is a cold water line. Costs $1,249.
Indoor Composter: The NatureMill Automatic indoor composter lets you turn biodegradable and paper wastes into fertilizer in a couple of weeks, through temperature control, pressure and mixing within the compost chamber. It uses only 10w of power. Costs $449.
Green your kitchen with these cool and trendy kitchen appliances and slash your electricity bills!