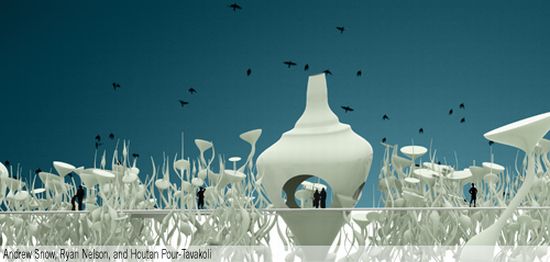 Eco Factor: Mixed ecology with greenhouses, solar energy generation and seawater recycling.
Conceptualized by designers Andrew Snow, Ryan Nelson, and Houtan Pour-Tavakoli, the "Hybrid Ecology" is a mixed ecology that employs extremely artificial means to achieve a natural environment. Proposed for the 2010 Land Art Generator Initiative Design Competition, the project incorporates a walkway through a forest of super-scaled artificial plant-like objects, combined with seawater greenhouses that intensify the nature of the site.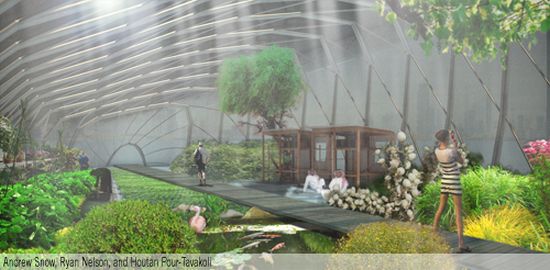 Adding a lot of greenery are beautiful plants in the greenhouse that create a unique environment, where some plants act as information screens, others as bird nests and feeding stations and still others come equipped with solar panels that collect energy to provide green illumination throughout the night. Diminishing the line between nature and artifice, the Hybrid Ecology art integrates energy production and nature into a piece of work that transcends classification.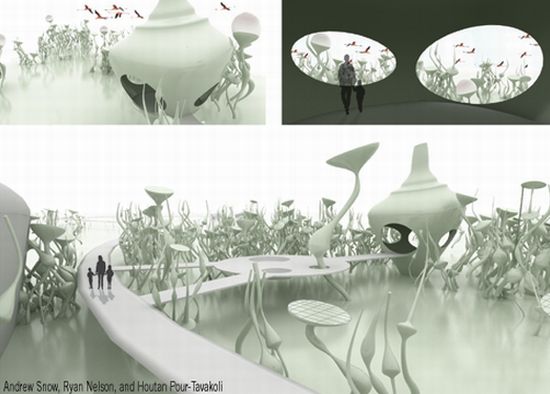 What's the most striking thing about this unique installation is the fact it is not the same always, which breaks monotony. The artwork change from day to night, from season to season, and year to year, offering viewers something new each time they return. It utilizes sea water greenhouses to allow plant growth in the extreme desert climate. An array of concentrated solar panels collect green energy is used both for sea water greenhouses and artificial flora.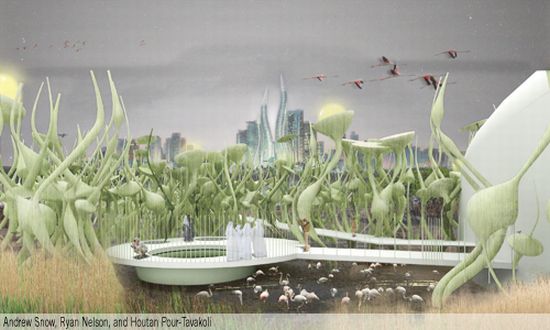 The greenhouses use energy to convert sea water into fresh water, creating a micro-climate suitable for growing crops. The remaining waste sea water from this conversion process is turned mostly into gypsum, table salt and more fresh water in a recycling plant. Apart from the greenery, the greenhouses will also include animal rescue center to help the innocent creatures.