Renowned Japanese automobile manufacturer, Honda, recently lifted the curtains off its Solar Hydrogen Station at Saitama Prefectural Office. Located in Tokyo, the station will serve as a platform for producing, storing and dispensing hydrogen fuel. The company hopes that it will be able to offer green energy to Japanese homes in the future.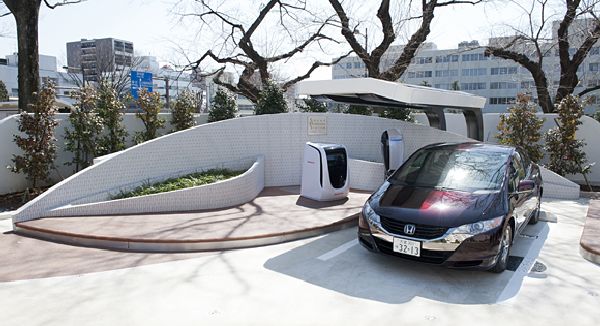 The Solar Hydrogen Station is the first of its kind in the country. Nowhere else have efforts been made to work with hydrogen so completely. It uses a system of high pressure water electrolysis that's been built by Honda itself. The silent system uses no mechanical processor leaving it virtually silent and very energy efficient. It sources its power through solar energy and the grid and will produce around 1.5 kg of the fuel in 24 hours. With time, the automaker hopes to provide clean energy to the masses.
The Solar Hydrogen Station is part of the company's Electric Vehicle Testing Program which will see Honda, Saitama Prefecture and Iwatani working together to build the automaker's next generation personal mobility devices.
In addition, Honda has tweaked around with its FCX Clarity – said to be the world's first ever dedicated platform hydrogen vehicle – and equipped it with an outlet which will function as a 9kW energy source. The FCX already makes use of a chemical reaction between water and hydrogen to produce clean energy. With the outlet, the car will be able to act as a mobile electric generator with nil emissions.
The FCX Clarity is based on Honda's 2006 FCX Concept. According to the company, the car's unveiling saw about 80,000 people around the globe showing an interest in the eco friendly vehicle. The cars are currently available in the US, Europe and Japan on a lease. One of the main reasons the FCX hasn't seen mass production is due to the fact that there are so few hydrogen refueling stations. It is hoped that more such stations will be set up in the future to make hydrogen powered vehicles more feasible.
Via: Honda