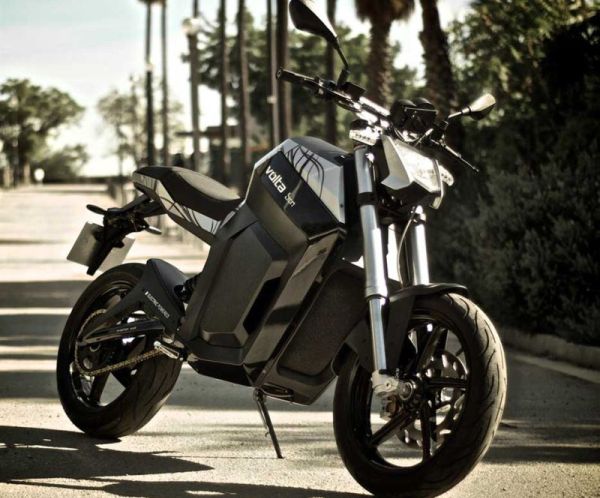 The green machine
The Spanish electronic motorbikes maker Volta Motorbikes revealed its notable sample model of Volta BCN back in May. The production version is to be launched in Milan 2 wheeler show. Volta BCN has got its name from an agreement with the City Council of the second largest Spanish city, Barcelona that wishes to become a significant example for sustainable mobility. BCN has been created with the task of providing new alternative solution for the pollution harms in big cities. Three versions of the BCN will be offered, but with different aesthetic and finishes. It can be a perfect choice for those who need a conveyance for daily transport to get through their crowded and high traffic city to reach their destination and can serve as a path of access into the two-wheeler world for fresh bike users.
Green factor
It is a combination of technology, design and a sporty feel to give users the chance to experience motor passion while also being considerate towards the environment. Being an electronic motorbike, BCN offers a 35hp engine and a range of 70km. With a complete battery recharge cost of 0.45 Euros; this bike can be recharged completely in 2 hrs just by plugging it into a 220-V household socket or at any public charging station. The Volta BCN has a lithium-polymer battery. When 1500 charging cycles are completed, which is equal to the five years of every day recharges, the battery would still have 80% of its original capability.
The powertrain
There will be 3 different models in BCN line-up. They are BCN City, BCN Sport and BCN My Volta which are customizable at an order. They will share same basic machinery and performance specifications. It has a DC brushed 35hp motor. It contains in-built lithium polymer battery and allows for partial recharges, despite of the existing battery charge level.
Volta BCN city has 35hp brushed DC motor with maximum torque of 67 Nm. Wheel base is 1450mm and seat height is 805mm. Dry weight of the bike is 135 kg. Battery pack capacity is 3 kWh and battery pack voltage is 74V (nominal). Volta BCN is outfitted with a panel which shows the amount of energy available in the battery at all times.
Volta BCN city offers the top speed of 74.5 mph or 120km/h and a range of 43.4 miles or 70 km. The Volta BCN has a direct-drive transmission, with no gear shift and no clutch. It has a trunk intended to hold a full-face helmet. A mobile phone connector has been fitted inside the trunk which can be used as a mobile phone charger while driving.
The highs
BCN city is a model especially designed for transport in the city. It looks vibrant, and has a personality which is a combination of high-performance features, quality design and advanced technology. All of its parts are supplied by prominent brands in the sector. One of the admirable features which could attract bike lovers is that the bike is the tranquil and easy position which provides agility and free movement when driving. It comprises of the additional facility of connectivity with mobile telephone equipments, as well as a broad array of applications such as programming recharges and limits for power setting.
The electric motorcycle world is extending its boundaries and bikes like the BRD Redshift and Orphiro are also going to hit the market this year, so Volta BCN would have to compete against them so as to win the heart of urban environmentalist.
The lows
Despite so many features in Volta BCN, customers may not be satisfied with its range. One of the other lows Volta BCN could face is that market for electronic motorbike is very limited. So it might not have a huge customer base.
Cost and availability
For now, Volta Motorbikes is setting up locations of dealers in Europe for its sale. During the first quarter of the year 2012, a pre-reservation list will be opened on the Internet for customers. In the second quarter of the year, first unit of the motorbike will be released for sale. Estimated price of a bike is expected to be around $10000, though there is no official verification about it.