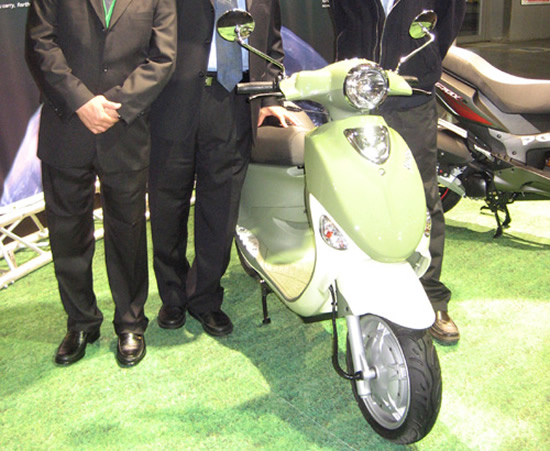 You may opt for an electric scooter to save your environment or simply because of the rising gasoline prices. Whatever the reason may be, the result is beneficial for all. And the latest to entrant to this growing market of electric scooters is the Taiwanese scooter company Motive Power Industry's new model. At the At the 65th Milan International Bicycle and Motorcycle Show (EICMA 2007), they pompously showed off their intentions to offer stylish, luxurious yet eco-friendly alternatives. What caught more attention there is the world's first Lithium-ion/Lead-acid Battery Electric Scooter. Although the shape and design is pretty much the same as other previous models, it's the fact that the scooter uses both lithium ion and lead acid batteries that's more interesting.

The new lithium-ion battery stores the electricity and supplies the more stable electricity to the traditional lead-acid battery, which outputs higher-voltage power to drive the motor. This increases the life span of the lead-acid batteries by preventing frequent deep discharges and also greatly reduces the weight of the vehicle. Weighing just 2.5kg, the lithium-ion battery pack is absolutely portable and can be stored in the luggage compartment for recharge at home.
Folks at AutoblogGreen also perceive that the front wheel is powered by an electric motor and deem it to be a two-wheel drive electric scooter!