Florida Gulf Coast University seems to be at the forefront when it comes to joining the green bandwagon. The University organized a go-kart race among the students of FGCU, Naples High School, Charlotte High, South Fort Myers High,Dunbar High and Estero High.The most interesting thing about this event is that the go-karts run on solar energy. The students came across to participate at the annual STEM Tour Awards and Challenge. Over hundreds of parents and children attended the event to cheer the participants.
Participants came up with impressive solar powered go-karts to make a definitively green impact. The aim of the University is to increase the reliance on solar energy, given the grim situation of today. Talking about this race, the winners were to be judged on three parameters namely endurance, speed and the overall solar presentation. And, surprisingly, guys from Naples High School emerged as winners in all three aspects. These guys finished four laps in just 9 minutes and 38 seconds in the speed test whereas the Charlotte guys bagged the second place. When it came to endurance test, the Naples High students were able to cover 12 laps in 30 minutes and the South Fort Meyers travelled nine laps.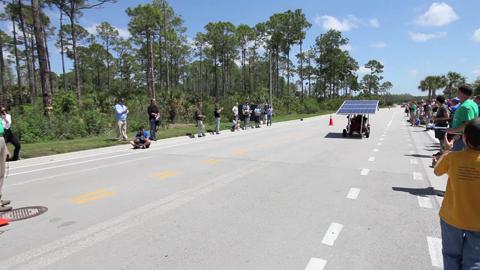 The benefits
Events such as the one recently held at FGCU aim towards promoting the use of solar energy in an era where our precious natural resources are just on the verge of depletion. Relying on such renewable sources of energy not only protects our precious environment but also helps meet the never-ending demands of energy.
How it makes a difference
It's not just about the race, but it's far beyond this. Steps such as these will improve the awareness regarding the need to have a sustainable as well as environment friendly energy sources. Our planet receives energy from the sun in abundance and if we channelize it in the right way, we are surely going to see a greener future for the next-generation and ourselves.