India has been reeling under scrutiny of their defense forces and the ammunition that is at their disposal for a week or two now. With the country's media ripping into obsolete nature of its equipment and the sheer inability to procure new ones in time, it seems that now is the most appropriate time to unveil a compact bullet-proof vehicle that will help them in urban combat situations. Not to say that this will see overnight change in the situation, but Tata Motors seem to have unveiled their Micro Bullet-Proof Vehicle at a time when national security is under constant (and at times inappropriate) scrutiny.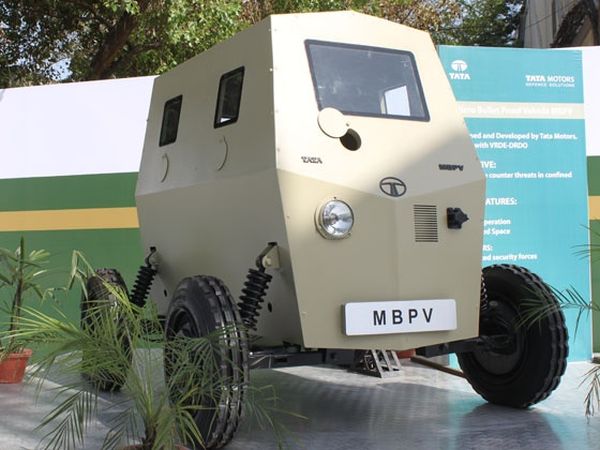 But why are we worried about a combat vehicle that will help deal with terrorist threats and other volatile situations in urban settings? Well because it is an all-electric and is capable of cruising around at a comfortable 20 km/hr for around six hours on a single charge. The build of the Micro Bullet-Proof Vehicle ensures that it can effectively deflect bullets using its curved surface design and it also deals with roll-off grenades in an effective fashion. It can carry two personnel along with ammunition (around 200 kg) and its unique chassis and suspensions enable it to tackle slopes and staircases with ease.
A joint product of both TATA and DRDO, the vehicle is a significant little step forward as it allows us to combat the ugly face of terrorism that strikes at the heart of urban centers and targets innocent civilians. The fact that the vehicle does not rely on diesel is an added advantage and hopefully more military technology will start looking away from fossil fuel as that is not just good news in terms of emissions for us, but because it is a far strategically sound.
Via: zigwheels