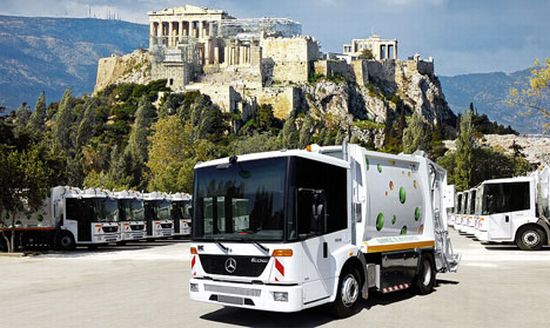 Eco Factor: Low-emission trucks powered by compressed natural gas.
At present, reducing the number of cars on the road or making all of them run on electricity doesn't quite seem a feasible answer. With trucks and buses sharing the major load of emissions, low-emission trucks could at least delay the global warming strike. Athens is trying to reduce the emissions, which their garbage collecting trucks produced by ordering 108 CNG-powered trucks from Daimler.
The trucks will be able to reduce particulate matter by 90% and CO2 emission by 25%. The trucks will be used for trash collection and fulfill the stringent EEV (Enhanced Environmentally-friendly Vehicle), which is even stricter than the current Euro 5 emission standard.
In addition to being a low-emission alternative to conventional diesel powered trucks, these new CNG trucks will be quieter, which is quite beneficial considering that the vehicles will be used in residential areas where noise causes a few problems.
Via: Treehugger