A new grey and fiery red touring trike created by designer Allen Chester Zhang has become the talk of the town in Philippines, and for good reason. This ecstatically designed taxi is Zhang's solution to beat traffic congestion common on the streets of Philippines. Called the Tarsier, it finds it's inspiration from thousands of age old, open-air tourism vehicles seen zigzagging across the city streets.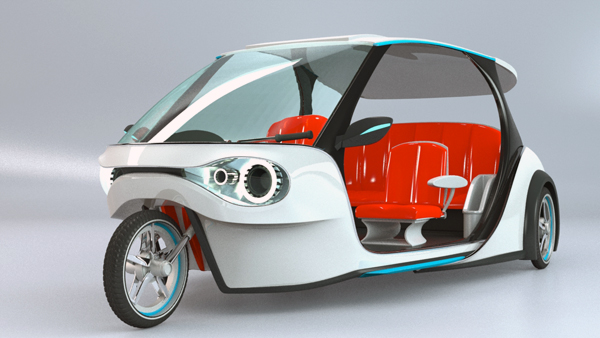 The Tarsier, however is a huge improvement over them, as it's all electric power circuitry ensures that this flashy taxi emits zero to minimum carbon emissions, making it an eco-friendly alternative to the taxis already in use. Apart from being interesting to look at and eco-friendly, Zhang's taxi also offers other benefits such as uninterrupted panoramic visibility and flexible use of seating and boot space. This in fact is undoubtedly the USP of the Tarsier.
The Tarsier offers convenient customizable seating, which involves folding seats that can be opened during rush hour to comfortably seat anywhere between 5 to 7 people in the back of the taxi. For the uninitiated, this is not the first time that designer Allen Chester Zhang has tried to better public and private transportation by making it more environment friendly. Zhang is also well known for his Green racing bike.
However, his newest creation, the Tarsier, is both a practical and affordable solution to end the burgeoning congestion and pollution woes in Philippines.
Via: Yanko Design