We may have caught sight of manufacturers going down the line and picking up recycled materials or eco-friendly elements to imbue in their technologically advanced solutions. Although people are aware of only avenues in the realm of recycling, however, it has more than you can think. In fact, you'd find many items in your house which you might think aren't recyclable, but in reality they are recyclable. For example, most of us believe that there's nothing like recycled telephone wires. However, believe it or not, you can recycle them. Moreover, even if the material isn't recyclable, by giving vent to your creativity, you can create art out of it.
Seven eco-friendly products made from recycled telephone wires
Be it embracing recycled newspapers for devising the USB stick, utilizing paper-to-go cups for uber easy iPod speakers, or settle upon Samsung's Blue Earth Phone carved using recycled plastic water bottles, the sphere has rendered almost all. However, glimpsing through the products that rely on recycled telephone wires to provide versatility may indeed throw a curve over many. Since the world's all about 'going green,' we have got our hands on some really stunning environmentally friendly products, that won't only take a twinge of guilt away, but will also make you stand apart from the crowd in a startling way. Have a look:
1. Recycled Safety Pin Cuff Bracelet

If you string along with embracing your gorgeous jewelry collection in a distinctive style, then what could be better than adding a little recycled reflection to it. Designed with pure aesthetics, the recycled safety pin cuff bracelet indeed sweeps one off their feet through a beautiful combination of usability and uniqueness. The handmade pin cuff bracelets from South Africa have show-off a playful and colorful look. The nattily interwoven accessory incorporates 'beads' that are devising using recycled telephone wire – astounding, isn't it? Integrated with the flexibility to fit all size wrists, the jewelry also utilizes computer cable scraps.
Trendy and voguish in appearance, the comfortable pin cuff bracelet further catches attention for integrating beads made out of pieces of plastic tubing which have been strung on elastic. One can easily pick up the colorful and truly natural look in attractive brown, cream, gold and black colors.
Read More: 10 – Most beautiful eco-friendly jewelry items
2. African handicraft basket

How about setting sights on a lovely basket that allows you to stockpile your stuff? The handicraft African basket is just perfect to add eco-friendliness and colorful carrying holders to your life. Apparently designed using recycled telephone wire, the vibrant and perky Zulu Imbenge baskets stand distinguished for their extraordinarily tight weaving, enabling them to even carry water. Imbued with quality materials, the gorgeous looking baskets are boldly colorful and emerge to be significantly well-known as souvenirs for commuters in southern Africa. However, these multihued African handicraft baskets have quite a lot left purchasers clueless about where the nine colored wire comes from.
3. Eco Bracelets

Conceptualized and carved by an ingenious artist from St. Louis, MO, the unique Eco Bracelets also boast of their recycled telephone wire fabrication. The multi-colored bracelets come in a set of five and can be picked up for $10. Made out of 100 percent recycled telephone wire, the bracelets punch the clock in varying combinations of yellow, orange, blue and purple.
4. Tuan Tran Wirewear

Another creation that searches through recycled materials for its manifestation is the Tuan Tran Wirewear. It has an amazing fusion of colors and form. Furthermore, one can easily wear the wired dress appealingly over shorts, a wrap or a tube top. Perfect for anyone who appreciates the emergence of creativity and convenience without going loud on the surroundings, the Tuan Tran Wirewear also draws attention for including some recycled ribbon. Some dresses highlight through the integration of 'Lights', where the effect is celestial.
By laying your hands on this one, you won't only enliven the ancient art prominence in a subtle way, but will also grab eyeballs for wearing something that talks about 'wires and myriad of shades.' Put forth by Tuan Tran, the collection furthermore uses electrical wires to outline trendy, unusual wire clutches.
5. Telephone Wire Basket

Last but certainly not the least, Telephone Wire Basket gets enlisted for sharing an extremely interesting history and origin of the creation. Incorporated with bright tinges and premium components, the product derives its construction from recycled wire baskets. Thereby the beads found their way onto the traditional izimbenge. The contemporary telephone wire baskets provide an insight into Nguni people. They traditionally made izimbenge or mbenge as a way to securely close the Ukamba beer pots.
The covers of the pots were then believed to safeguard their sacred substance from flies and dust. When they would remove the beer from their pure pot, the etiquettes needed that the lid be utilized to hold a spoon-shaped beer skimmer. However, the combination of Ilala palm fiber and glass was used to carve the stated lids. When European missionaries and traders introduced the tiny, beautifully colored glass beads, a significant aesthetic revolution took place. Since then, telephone wire has been used to devise covering baskets, believed to be a replacement to the Ilala palm.
6. Imbenge Baskets From Telephone Wires!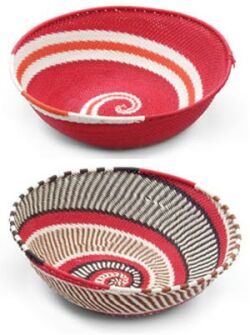 The Zulu weavers have catapult themselves in the list of innovative craftsmen. These beautiful baskets are made not from anything one can easily guess – but from recycled telephone wires! Didn't the material each basket is made of make them a unique work of art?
They can stand alone to be an object of visual delight. Apart from its utility, you can also display one on the wall or a display case. Keeping it clean is also easy; simply clean your imbenge basket by washing it in cool, soapy water. For a better durability, keep out of dishwashers and away from sun and heat. These Baskets come not only in Black and White but also in attractive multicolors.
7. Hand-made recycled telephone wire basket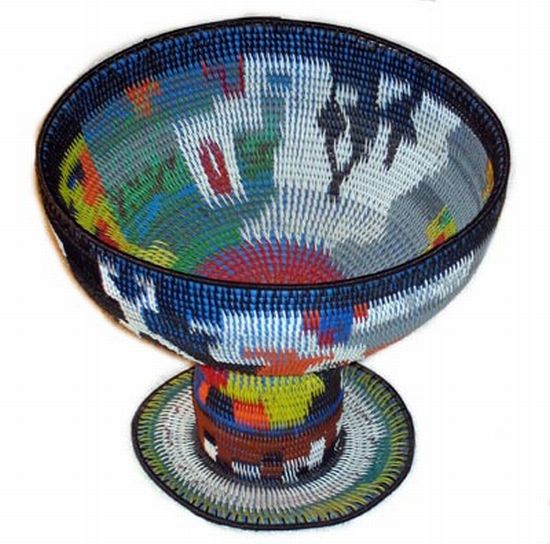 Looking for a green gift for your friends this Christmas? Have a look at this hand-made basket by Zulu weavers. Wonderful weaving of recycled telephone wires through unusual 3-ply technique has resulted in a delightful, but costly visual treat. This intricately patterned basket is quite expensive.