Going green can be easy with divulging into Eco friendly ideas for lighting the kitchen. For the Eco conscious, living green can't start better than a place a like kitchen. Since light is the essence of great cooking, green kitchen ideas can go a long way in helping you make a small contribution from your end in reducing your individual carbon footprint and saving the planet simultaneously. Advances in lighting technology have made it easier for Eco lovers to go green in areas like kitchen and bathroom. These long lasting lighting ideas can help you save cost of your electricity bills too. By incorporating environment friendly lighting ideas to illuminate your kitchen, you can give a sophisticated and a streamlined look to your kitchen that will also brighten up any dark areas. Using energy efficient yet trendy looking lighting techniques can be a solution for modern day green living. Here are some lighting ideas for you to illuminate your kitchen.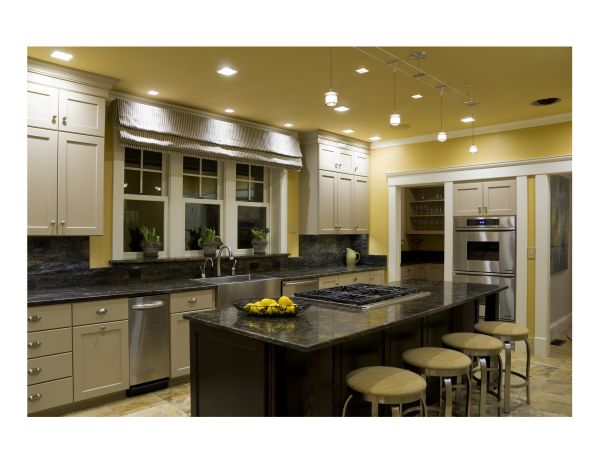 LEDs above your cabinetry
Eco friendly people can install LED puck lights above the kitchen cabinets for ambient light. These lights will not only light your cabinetry but also illuminate your countertops to some extent. LED fixtures can be the right choice to go green in your kitchen area as they utilize between 80 to 90 percent less energy as compared to an incandescent fixture. They burn cool and emit a colorless light, similar to daylight. However LEDs are also available in range of colors like red, blue and green and amber. You could consider one of these shades to add an accent to your current lighting scheme.
Use Natural Light to brighten up your kitchen space
You can make your kitchen look spacious and lively by allowing the natural light to penetrate from your large kitchen windows. This is a no cost involved, energy efficient way to go green, which does not require any special arrangement or fixture to conserve energy. With zero maintenance requirements, you can switch to alternate modes of lighting on a cloudy day or once the sun sets. You can make your kitchen areas and accessories sparkle, giving your kitchen a pristine appearance by using natural light.
Energy efficient compact florescent lights under your cabinets
A lot of time is spent working in the kitchen and lights can help you keep the good mood and remain lively. You can choose to brighten up areas like the space under your kitchen cabinets to add a beautiful and warm touch to your working area. And what's more, without taking much space, Compact Florescent Lights (CFLs) can add that zing by brightening the area under your cabinets and save energy and cost too. They last up to ten times longer and are four times as efficient as traditional lighting techniques. They help in reducing carbon emissions into the atmosphere and are a great alternative to your modern day incandescent light bulbs.
Consider adding a skylight to brighten up your kitchen
Try to reduce your dependency on light fixtures by maximizing the natural light inflow in to your kitchen. Natural light will spruce up your mood, and reduce your cost of electricity bills. If you do not have large windows for the natural light to enter your kitchen area or you are unable to add windows in your existing kitchen set up, skylights should be your pick. For the environment friendly folks, skylights can brighten up the dark corners of your kitchen and also provide the much needed ventilation. Skylights come in various shapes and sizes to add that little spice to your kitchen area and help you make a wise energy choice.
Helios lighting to illuminate your kitchen countertops
Helios lighting is the latest environment friendly technique to create dazzling feature lighting above the kitchen countertops. With reduced energy consumption and near zero maintenance, helios lighting can help you save both energy and cost. It delivers consistent light output and can be customized in terms of finishes and stem length. They are available in variety of styles and colors to suit your kitchen lighting needs.
Energy star rated lighting for your kitchen areas
Using lighting techniques, which are energy efficient and provide similar output as compared to conventional lighting mechanism can be a great way to go green in the kitchen. Being a eco lover, you can opt to use ENERGY STAR rated lighting fixtures to brighten up your kitchen and also reduce your individual carbon footprint. These energy stars rated lighting fixtures help you save on cost by reducing your energy consumption considerably.