If you are wondering what is a Corian kitchen countertop, you surely are in the right space. Corian countertops are the Eco-friendly countertops manufactured by DuPont. Corian is the material used to make these countertops. Ingredients that go into making Corian are aluminum tryhydride, acrylic adhesives and other natural minerals. This makes Corian safe for indoor use, it is also approved for usage in laboratories and hospitals.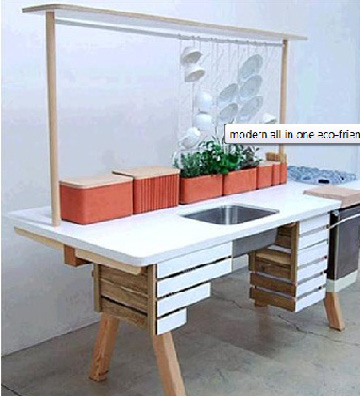 The USP of Corian is that it is hard, homogeneous, non-porous, durable, stain free and scratch-resistant. This makes it ideal for using in making kitchen countertops. Available Corian ideas include from fully fledged kitchen counters to Corian sinks and many more. There is an array of designs which are on offer for Corian kitchens countertops and here are a few to mention.
1. Next generation Corian countertop. If you are someone thinking out of the box and want to give your kitchen an entirely new look which sets itself way apart from the rest of the kitchen styles, then, this futuristic kitchen countertop is a handsome choice. This smart, sleek, creative countertop takes a step ahead in innovation and provides multimedia equipment. A touch screen where you can surf and also listen to music.
2. Corian breakfast bar. The beauty of Corian is it goes well, when creatively added with other material also. This countertop can be made as vibrant as possible. It also provides you a small eat and yet store some necessary utensils on the table.
3. Corian curves. You can also choose to make stunning and curvy countertop making your kitchen look way different and unique from the rest. It comes in glacier white with the sink even. Provision for lighting of your choice is also given at its bottom which is a unique quality in itself. The integrated sink is seamless and makes your kitchen one of the most talked about spaces in your house.
4. Corian sleekness. Corian allows you to build an extremely sleek looking kitchen. Attractively geometric and precisely made countertops allow you to have all the elements in your kitchen aligned to each other very artistically making it look spacious. It gives your kitchen a unique, unified look which one cannot stop raving about.
Although Corian proves to be a good bet for your kitchen, it is important to evaluate the negative aspects as well. It is worth every penny unless you wish to disregard certain issues. They are prone to scratches and one should be careful while working with hot pans. Your decision should be based on your lifestyle too considering kitchen countertops to be one of the most useful things at any home. If you are looking for durability, cost-effective and good quality, Corian countertops are certainly what you have been looking for!
1. Eco-friendly kitchen island designs by Studio Gorm


This cool kitchen island design by Studio Gorm comes decked with a sink, utensil rack and all other necessary amenities all in a sleekly designed single unit credulously incorporating environment friendly features. Racks are provided where you can hang your dishes and other utensils. Below the racks are provided pots where you can have plants, making it appealing to the like of us who wish to have plants around us inside our homes. This feature of potted plants on the island turns the cooking area environment friendly as water from the washed dishes are absorbed by the plants directly placed under the dish rack. This unique contemporary Eco-friendly kitchen island design by Studio Gorm is also ideal for saving room spaces. This kitchen island design is surely a stylish contribution to the green revolution.
2. Faltazi 'Ekokook'
This kitchen island is a unique Eco-friendly creation by Faltazi which comes with three micro-plants that enable you to use and re-use all your kitchen wastes. Yes, you read it right! This kitchen island is decked with three micro-plants that can help recycling of solid, liquid and organic wastes. In the first micro-plant, solid wastes like glass, bottles, paper, etc. are crushed, smashed and cut down into minimal sizes with the help of the provided steel ball, screw and shredder within the plant. In the second micro-plant, water can be re-used. This recycled water can be used to water your garden's plants. In the third micro-plant, organic wastes like left-over food, vegetable wastes, etc. are made to decompose by real earthworms which naturally forms lumbri compost within three months. This can be used as a fertilizer for plants.