These days people are opting for eco-friendly policies while designing their home especially bathrooms. Eco-friendly bathroom cabinets are available in a wide range providing you with a fantastic looking and environment friendly bathroom. These cabinets are made up of materials like sustainable timber, wheat board, and bamboo. In fact, bamboo cabinets are highly preferable for bathroom because they are more resistant to moisture and humidity, grow much faster than wood, and have incredible strength, natural aesthetic beauty, and regenerative properties. Additionally, designers are utilizing low emitting materials that help in maintaining the quality of air. Here is a description of some environment friendly bathroom cabinets that are quite beneficial for conservation of natural resources.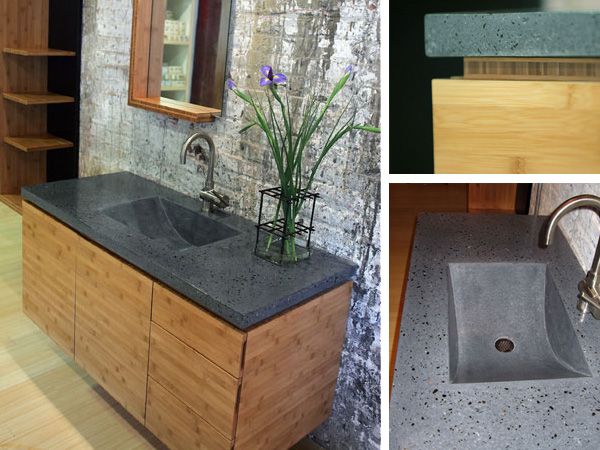 1. Bathroom cabinets by Waterfall
This eco-friendly bathroom cabinet is a beautiful bathroom vanity by Fresca Belleza. Its dimensions are 59.25 inches x 19.75 inches x 21.5 inches. The materials used in designing this eco-friendly bathroom cabinet are solid oak wood, marble composite counter and ceramic sink. Its model number is FVN6119NW and is priced at 1950 USD.
2. Bathroom cabinets by Luke Works
Luke Works has exclusively designed a line of environment friendly cabinets for bathroom. This bathroom cabinet is wall-mounted and hand crafted with sustainable bamboo and re-used concrete that is 30 percent post-consumer proprietary blend. This elegant looking eco-friendly bathroom cabinet is available in three base models: two 48" width and one 36" width. People can choose between two cabinet finishes to reflect their individual style. The vanity cabinet can cost you between US $2,799 and $3,699 (without mirror and storage shelf).
3. Eco-friendly paintless bathroom cabinet
This eco-friendly bathroom cabinet is made up of MDF wood or high-grade plywood. It has melamine stick finish that is waterproof, anti-crack, and anti-damping. This bathroom cabinet also a smooth surface that never fads and is easy to clean. The doors and drawers used in this cabinet come with noiseless buffering hinge. It will range between US $69 and $129.
4. Eco-friendly MDF bathroom cabinets
These cabinets not only improve the quality of air, but also give a stylish look to your bathroom. Moreover, eco friendly paint like no volatile organic compound paint, natural minerals, milk proteins, and plant oil are used on these cabinets. Actually, these paints are considered as healthier because they do not emit toxic fumes. This beautiful eco-friendly MDF bathroom cabinet will cost you 139 USD.
5. Recycled bathroom cabinets by GOLDEA
GOLDEA bathroom furniture offers bathroom cabinets that can be customized according to the requirements of user. The model number of this bathroom cabinet is YTG03-086 and its price is between USD 150 and USD 190. These eco-friendly bathroom cabinets look elegant and stunning. GOLDEA has revealed these eco-friendly bathroom cabinets in high gloss white color. They are made up of MDF certified wood and are painted with low VOC paint.
6. Bathroom cabinet by HUIDA
High quality eco friendly bathroom cabinet designed by HUIDA features impels design and modern style. This environment friendly bathroom cabinet is combined with waterproof mirror and ceramic basic. Non-toxic and environment friendly paint is used on these MDF bathroom cabinets. They are available in several lacquer color options with customized specifications as per the clients. You can purchase this eco-friendly bathroom cabinet by paying between $100 and $145.
7. Bamboo bathroom cabinet
These cabinets are made up of high quality bamboo plywood (Plyboo). It is ISO 9001 2008 and SGS certified. This classic style bamboo bathroom cabinet with baking varnish is available in several color options. You can also choose other material like solid wood or MDF for this classic style wall mounted cabinet. This bamboo bathroom cabinet offers stylish storage in an environment savvy fashion. It looks stylish because of the modern sliding door of the upper cabinet. Its price is around $86 USD.
8. Bali solid bamboo bathroom cabinet
This floor standing style eco-friendly bathroom cabinet is available in several customized options. Stylish handles are fitted on the doors of this bamboo bathroom cabinet for a classy look. It has a smooth and flat surface and is therefore easy to clean. Non-toxic recyclable material is used in these bathroom cabinets. High gloss paint has been used for environmental protection because it is non-toxic. Its price is £79.95, excluding the washbasin.