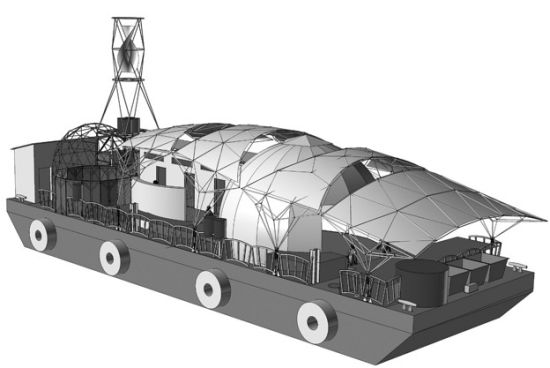 Eco Factor: The Waterpod is a self sufficient habitat on water that will harness renewable sources for energy.
Mary Mattingly, a sculptor and photographer, and other three artists are set to complete a Waterpod project, a sort of self sufficient community on the water. Waterpod is being built on a 30-by-100-foot barge moored at the Brooklyn Navy Yard. To make the structure completely independent and self sufficient, project includes hydroponic gardens for onboard production of food, whereas, rainwater will be purified for drinking water. To fulfill the energy requirement, the pod relies on solar and wind energy. A partial contribution in generating electricity will be achieved from pedaling stationary bike and by recycling waste into compost. Further, recycled old rooftop water tanks, donated by American Pipe and Tank, will be used to construct the living quarters.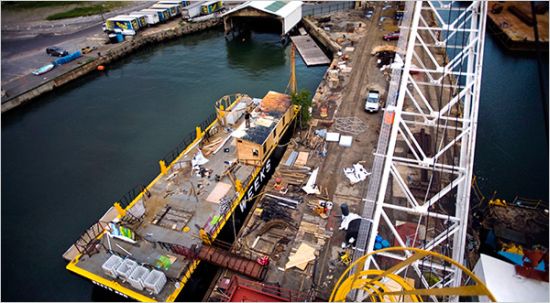 The total estimated cost of the project is about $150,000. This project has received finances from many private donors along with some free services. If the construction is completed on schedule, Marry and three other artists hope to start living on the barge for five months, docking at various locations in the five boroughs, where it will be open to the public, beginning with South Street Seaport. This project as a whole reminds of aquatic version of the Biosphere 2 complex that was built in the Arizona desert in the 1980s. It was a sort of example for an alternate living on land that might become a necessity in the future.
Via: NYTimes