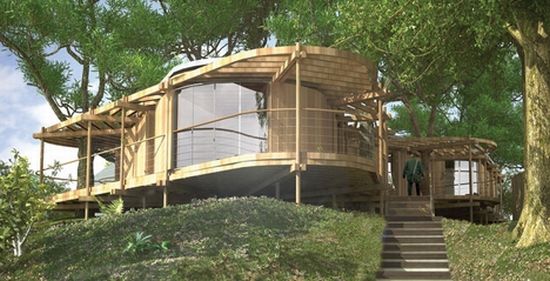 EcoFactor: A tree house with green features that is being built within a conservation area in Beaminster.
Most often any modern structure that is taking shape in a protected or conserved green ends up ruining the greenery around that place. But Western Design Architects is chalking up a blueprint of £800,000 tree house within a protected area of oak trees. The house is made up of three green pods and covers an area 360 square meters. While the house is in the heart of protected oak tree area, it will not really harm the trees, as it is not bolted to them. Of the three pods in the home, the central one would house a kitchen, lounge and dining area while the other two would be lavish bedrooms. The tree house will use recycled timber, and despite its green outlook will be both modern and contemporary in style.

The Dark Side:
The Tree House seems a perfect green house but one has to wait and see in what way they affect the protected area. One might as well build it in a normal residential area so as to minimize any human impact in a protected zone.
Via: Bdonline