We've covered many inspiring stories revolving around solar power over the past several months. All minds behind the projects all share one common aspect; to think and go green. It is this belief that has fueled awareness among the masses about the importance of sustainable living. Industrial designer, Aviator Ashurov, has set out to create a green bus shelter that can stand on its own two feet without depending on power grids for electricity. Called the Rubix bus shelter, the design is contemporary and clean.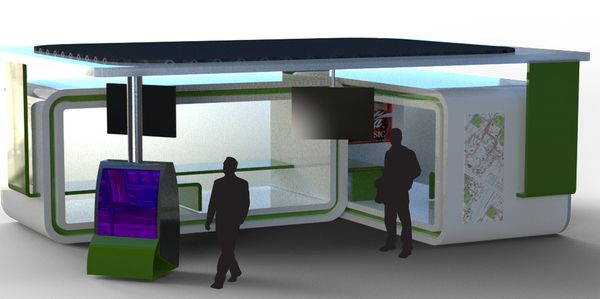 Ashurov's vision was to create a concept that would address the environmental issues being faced today, namely, energy scarcity. Rubix makes use of renewables like solar energy to meet its requirement to light up the bus shelter at night. Solar panels have been installed on the roof to harness sunlight after which it is converted to electricity to power LED lights.
Such efforts lend hope that the future might not be so bleak after all. Even if solar power is used on a small scale, the collective difference it makes it huge. Small setups like bus shelters and street lights do put some pressure on power grids especially if there are many of them. If they can all be powered by renewables, then the grids could better cater to the requirements of bigger establishments.
Ashurov's futuristic endeavor is quite the concept for modern times. In keeping with the green theme, the LEDs even emit a green glow. A ticket dispenser installed in the shelter is also powered by solar energy. To add to its appeal, the shelter even has a charging station for electronic devices, all powered via the solar panels.
The self sustaining Rubix bus shelter should motivate governments and municipalities to follow a similar approach when designing civic amenities. What's even better is that such technologies can also be applied to existing infrastructure without the need to redesign everything.
Via: Behance