Recycling options have paved the way for whole new creations to be developed, which might never have been thought up if the designers were to work from new base materials. Alluding to this fact, Sarah Turner, a designer based out of United Kingdom, has designed some interesting lamp shades out of used plastic bottles. They're sandblasted to turn them into white and green polypropylene sheets, after which they're manipulated to create amazing shapes.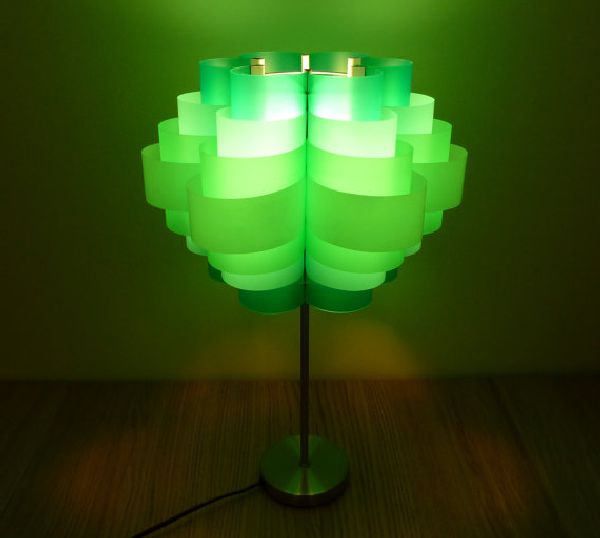 A look at her designs and you would never have guessed that the materials used are recycled. The locally sourced plastic bottles are cut and trimmed to size depending on the design. For the lamp shade pictured above titled Daisy 12, the plastic is formed around the lampshade's rings to create a design that's retro and stylish.
Daisy 12 is available in a variety of colors ranging from raspberry and violet to lime green and lemon yellow. What's more, the designer has fitted each lamp with an energy efficient light bulb. If a customer orders a unit from outside UK, then the standard plug will be changed as per a country's standard.
Turner's Daisy 12 is just one among many more creative lighting concepts under her belt. A visit to her site will open your eyes to the many possibilities that exist for recycled designing ideas. There is the Cola 30, a chandelier like lampshade that's made using 30 used Coca Cola bottles. The Bluebell 6, meanwhile, is made from six used plastic water bottles, sandblasted to a pale blue hue.
Efforts like Turner's give us hope that despite the growing garbage problem, there are those who take it as a challenge and use it to fuel designing ideas for profit. Not only are the results beautiful, but they're functional as well. It is initiatives like these that could very well help to temper the garbage issue especially if more such individuals engage themselves in recycling.
Via: Etsy