We all profess the use of electric vehicles and methods such as carpooling to help cut down on emissions and reduce your own carbon footprint. Each day commuters across the globe add the huge amounts of carbon gases into the atmosphere and most of them do not even realize or worry too much about the damage they are causing to the planet's environment. But Zhuzhen Lin is someone who has decided to tackle the problem head on and do his little bit by not depending on the fossil fuel powered vehicles. Student of Zhejiang Xiangshan schools, he has built his own solar car, which cost him around $2400.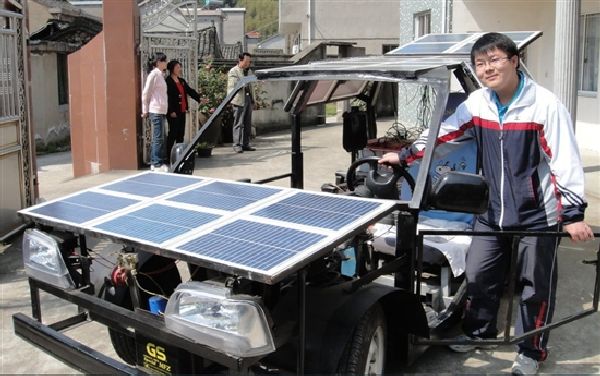 The car built by this 19 year old is not just all solar, as you can even hook its batteries up to grid power on a rainy day to still cruise around without any hassles. The car has a range of about 70 Km when fully charged and can hit maximum speeds of about 40 km/hr. the solar powered car draws its energy from the 22 photovoltaic panels that are installed on its roof, sides and rear. This basically does away with any worries about aesthetics and squarely puts function ahead of form.
The best part is that Lin could craft up the solar car for just 15000 Yuan and that comes to around $2400. Creating a solar car for that price tag might be a good way forward for more such users who are not too worried about the design and just want to get a green ride without having to fork out huge amounts of cash for it. With a few improvements and tweaks, maybe one can have a commercialized version as well.
Via: Tieba