The 3,000-mpg supermileage car named Lamina, which was designed and developed by a team of students from California Polytechnic, has undergone its final testing and is ready to take part in this year's Shell Eco Marathon. Final alterations have been made to the Lamina and the engineering students are heading out to Houston next week to go up against 50 other teams from South and North America.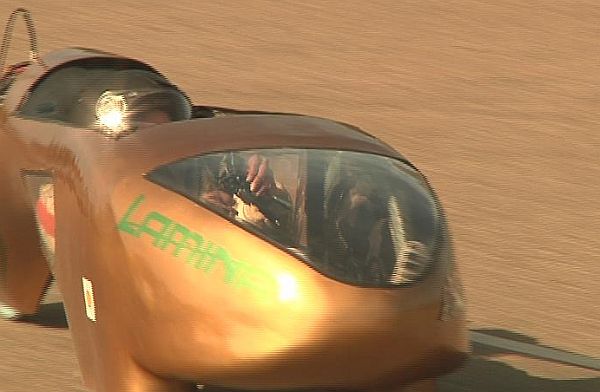 The Lamina, meaning 'blade' in Latin, was inspired from the look of a kitchen knife. The supermileage vehicle can cruise between 10 to 25mph which it manages to do by using a burn and coast technique. This involves getting the car up to its maximum speed and then switching off the engine and coasting as much as possible. The team hopes that the idea can be put to use in the future on production models as well.
The Lamina also manages to conserve so much fuel owing to its size and weight. The shell is made completely out of lightweight carbon fiber while bike components such as the custom low resistance tires installed on BMX bike rims and a customized Honda generator have been installed. The students say that it is all about sizing the engine properly so you don't require tons of horsepower to increase fuel economy and overall efficiency.
At the Shell Eco Marathon, the Lamina will drive for 24 minutes on a 6-mile track using fuel contained in a small glass fuel tank which is about the size of a soda can. The fuel will amount 10 to 12 milliliters.
The team of students also has tips for everyone to get more efficient mileage. They say that reducing the use of the gas pedal and coasting more often can help achieve better economy while easing into neutral during traffic light changes enhances mileage.
Via: Kcoy