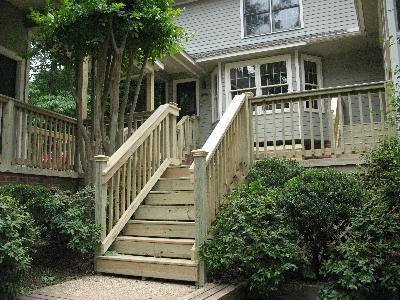 The concept of using Eco-friendly products is now not just limited to a few pieces of furniture around the house only. It has stretched out to the use of various parts of the house and house-building as well. You can lend your stairs the Eco-friendly touch by making them out of Eco-friendly pressure treated lumber. This kind of lumber is blessed with a number of attributes which make them not only Eco-friendly but advantageous as well.
What is pressure treated lumber?
We can get lumber or wood from a number of various types of trees, but not all wood may be as durable as others. To correct this problem, comes the concept of pressure treated lumber. This has made all kinds of woods available for various uses. This lumber is durable, weather-proof, inexpensive and readily available. The chemicals used in the process makes the lumber resistance to fungus or mold, decay and insects. It also involves low maintenance which accounts for its popularity. Since stairs are much used and must be durable enough to bear the weight of people going up and down, it is best that they be constructed of high quality durable lumber like pressure treated ones. It is especially true, if the stairs are located outside in your garden and need to be weather-proof as well. So, using cost-effective pressure treated wood is a great option for all.
Is it environmentally friendly?
Near about 70 years ago, the concept of pressure treated lumber came into existence. During the earlier stages, the main component used to create such lumber was CCA or chromate copper arsenate whose main ingredient is arsenic. Although denied by individuals in the lumber industry to be harmful, actually such pressure treated wood was harmful to humans and nature alike. This led to the ban of use of the chemical from 2004. Nowadays, ACQ or alkaline copper quat is being used instead of CCA which has made pressure treated wood safe for use. Studies have failed to show any ill effects resulting from the use which has led many to conclude safely that it is an environmentally friendly option.
Things needed to start building stairs
To minimize the costs of building stairs all by yourself, it is best to chalk out a list of everything needed first to go about the job in a professional manner. The things needed for installation are pressure treated lumber stairs, exact plans on building the stairs, tape measure, saw, cordless drill, stair stringers, ruler and screws.
Besides the materials needed, you must decide the length and height of the stairs. Measure the height from where the stairs start and decide on the slope that the steps will take. The correct measurement of stair stringers should be determined as well. Generally, they come in three-seven steps in sizes. Choose according to which seem to be the correct height for you to climb.
How to build stairs in simple steps
Although these days, you can get plans on how to build stairs, they only help you to calculate and plan the build-up. The steps given here will simplify the entire process so that you can build them like a pro.
1. A frame must be build for the pieces of wood that act as sidewalls for steps, otherwise known as stair stringers, and attached to them.
2. Measure the space of the stairs' location, line up two stringers and secure them in place. Remember that the width of stairs is mostly 30-36 inches.
3. You can attach the stringers to the deck's edge with the help of hardware brackets. Use them to further attach the stringers to a wooden walkway where the stairs end.
4. Install the planks by measuring them to the exact length and then creating each step. Mark and cut the pieces and then screw them up. This process may be made easier by making a small pilot hole with the help of a smaller bit.
5. If you want solid stairs, you have to create planks that will act as walls for the step. However, in case the stepping room of the planks used for steps are not much, you should avoid creating a solid stair.
Conclusion
Building Eco-friendly stairs is pretty simple and can be done by even a novice, just with some proper information and guidance. Pressure treated lumber will prove to be long-lasting and durable against a variety of things and installing the wooden steps by yourself will help you save a lot of money, while being environmentally conscious – all at the same time.