When we talk about vehicles in an urban scope, it is their flexibility of functions that takes predominance in our judgment. Fastidiously following along these user defined lines, mechanical engineer Michael Druchunas has ingeniously conceived his version of a city based vehicle. Named as the Bimoped electric vehicle, this sustainable concept alludes to the dual nature of efficient maneuvering, tailored for countering those cramped urban traffic conditions.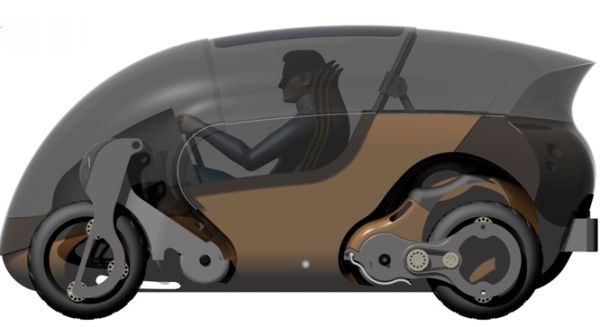 So, in simpler terms, the Bimoped allows us to travel both in a four wheeler car, and also in a two wheeler moped. How so? Well, the designer has envisaged a modular scope by which the original form of the vehicle can reconfigured into a car as well as a moped component.
Intrinsically related to this dual adjustable feature is the unique structural attribute of Bimoped. Conceptualized for the Dutch capital of Amsterdam, the design is in fact directly inspired by the thriving aerospace industry of Netherlands. In his vision for the ambitious project, the engineer has thought of utilizing such aerospace oriented materials, which are lightweight, aerodynamic, yet sturdy. But more importantly, these structural elements have the ability to improve upon cost effectiveness and the so called 'modularization' of the vehicle.
Coming to the flexible form, the car component is encased in a bulbous glass facade, integrated with transparent photovoltaic module. The glass will act as a four piece greenhouse conjoined with a hardy one piece composite structure of the chassis. But, it is the detachable wheel based system that insinuates the dual mode of transportation. These sub assemblies; singular wheels with connecting rods can be separated from the chassis and fixed together, to be transformed into fully maneuverable and portable mopeds.
As for the electric power train, the Bimoped will be incorporated with a special range extender engine like Lotus or FAGOR RE20. This low cost 866cc variant, with 20 kW output and 91 percent efficiency, comes with an integrated generator. It also includes an optional compressed gas conversion kit, to supply power during emergency demands. The whole component is complimented by a sturdy yet fully changeable battery pack. Its charging benefits would depend upon the existing electrical infrastructure, which entails powering up from normally available residential sources as opposed to charging stations. Other drive enhancing mechanisms include advanced features such as regenerative braking system, clean solar power generation and flexible hubless rims for the tires.
Finally, coming to the aspect of user convenience, the drive alludes to a low emission form of electric transportation within an urban scope. This hints at the regulation of greenhouse gases, which not only contribute to air pollution, but can also severely limit traffic visibility on blind turns. Moreover, the designer has thought of an accessible structural system for optimized user comfort. These include a fully transparent glass canopy for an unconstrained visual link, reasonable height for ground clearance and an adjustable rear compartment for cargo.
So, at the end of the day, the Bimoped is a futuristic concept that hinges on the evolutionary design process of automobiles. In a way, it implies a modernistic consideration which marries the high points of both unconventionality and practicality.
Via: Coroflot